IOM: Over 31,500 people remain displaced in Wau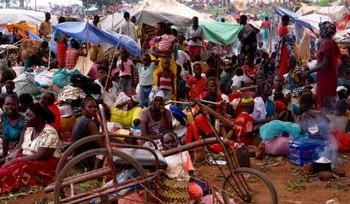 Displaced people at the Wau UNMISS base. Photo: IOM
Since conflict broke out in South Sudan's Wau area in June 2016, more than 31,500 people remain displaced from their homes, the International Organization for Migration (IOM) said.
In a press release extended to Radio Tamazuj on Friday, IOM said together with partners they continue to provide support to displaced, host and returnee communities across Wau while extending humanitarian assistance to families affected by recent insecurity in mid-June 2018.
While parts of Wau are gradually seeing communities return, the organization said, many displaced families remain hesitant to go home permanently, both fearful of insecurity and with little-to-nothing to return to, as many houses have been looted or destroyed during the fighting.
The aid agency further said clashes in June between armed groups in areas south of Wau, including Baggari County and Jur River, prompted additional displacement to Wau, including nearly 2,000 people to collective centres in Hai Masna and Agok.
"Areas of Baggari heavily affected by the fighting are currently inaccessible by humanitarians. Humanitarian partners anticipate that many people likely scattered further into remote areas in search of protection. Camp management volunteers in Agok reported that families from Baggari have arrived at the site as recently as 3 July, likely crossing dangerous frontlines between the warring parties to reach Agok," partly reads the press release.
IOM pointed out that fighting in Baggari led to the looting of its mobile primary health care clinic in Farajjalah. "Without the clinic, thousands are now unable to access lifesaving primary health care services, which only became available in late December after more than a year of extremely limited humanitarian access in the area," it said.
"IOM, as camp management lead in Wau, is supporting coordination of the response to the influx to Hai Masna and Agok. It also distributed soap to 1,170 people and menstrual hygiene kits to 300 women in Agok on 2 July and shelter items, such as blankets and sleeping matts, to 730 people in Hai Masna on 29 June. IOM began building communal shelters on 3 July in Hai Masna for the new arrivals, who have been sleeping under trees since arriving," it added.
The organization noted that it is also supporting rehabilitation of returnee communities in Jebel Kher in Wau town.