INTERVIEW: Tambura relatively calm after thousands displaced in clashes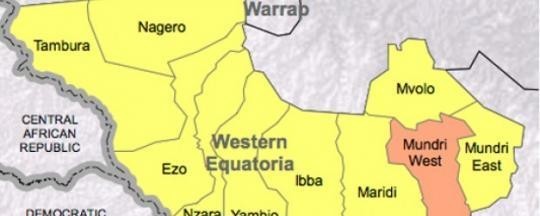 Western Equatoria State Information Minister William Adriano Baiki says the situation in Tambura County is relatively calm with reports of isolated cases of insecurity after mass displacement and an unspecified number of deaths.
Tambura County has recently witnessed violence, torching of villages, and mass displacement of people as a result of clashes between the SPLA-IO and forces loyal to Gen. James Nando Mark who defected from the SPLA-IO Division 9B, formerly under leadership of the current Western Equatoria State governor, Gen. Alfred Futuyu of SPLA-IO, to the SSPDF in March 2020.
Radio Tamazuj spoke to Minister Adriano in an exclusive interview on the situation on the ground. Below are edited excerpts:
Q. How is the general situation in Western Equatoria, especially in Tambura County?
A. There has been some conflict in Tambura County in recent days and the genesis of the conflict goes back to May, when the former commander of I-O, General Nando, joined the government. He decided to assemble forces under his command including those who are next to the Yambio Airstrip and others in Source Yubu. After that, rumors have spread around that those forces in Source Yubu have launched an attack on Namatina Payam of Nagero County. The first incident took place when they were heading to Namatina and along their way, they arrested two young men and slaughtered them. Upon their arrival to Namatina, they burned houses and looted property before they returned to their base in Source Yubu.
The state government decided to send a delegation to Tambura to investigate the cause of the incident. Upon their return from Tambura, they picked the father of the two boys who were slaughtered. We investigated him and he preferred to hear from another young boy who had survived the incident. The young boy was able to reveal the names of those who were involved in slaughtering his two brothers. He saw them.
As we were still investigating the first incident, we heard of another launch on Namatina by the same forces. They advanced until they reached Bingimo and arrested the chief of the area and was investigated and later released. On their return, they met two hunters who were searching for wild animals and honey. They shot at two of them killing one and wounding the other one who managed to escape and reached the hospital. But after a few days, he succumbed to his injury.
The forces did not reach Namatina but they decided to make a U-Turn at Naita Payam of Namatina. They burned down houses and they were confronted with local youth in the area. Some local youths pursued them and found out that they spent the night in the same area. They advanced further into Mgbaranga and also started setting houses on fire, destroying plants in the farms, and continuing till they reached a place called Bazande. They confronted local youth and the forces decided to withdraw towards Nabanga. During this confrontation, houses were looted, property looted and many people were killed and wounded as well.
Q. So the conflict is mainly among I-O forces and forces of the former I-O commander, James Nando, who defected to the government. Is that right?
A. It is the forces of Nando who went and attacked the I-O forces who were at the cantonment site. The distance between Source Yubu and Namatina is 61 miles. They are supposed to move for two or three days to reach there. But they decided to make a U-turn before they could reach there and began to attack villages and burn down houses and looting property.
Q. But the information is that it is the IO forces who acted angrily upon hearing the defection of General Nando who began to attack his supporters and even some of them were arrested. Is that correct?
A. What happened is this. If you are a leader and you don't speak the truth it will turn against you. As I said earlier, the distance between the Source Yubu is 61 miles. It was his forces who moved from Sosyubu and attacked the I-O forces in Namatina. If they were I-O forces who attacked their base, the fighting would have taken place in Sosyubu. And in the military, if you are attacked by other forces and you are armed, you will defend yourself. This is the truth.
Q. How many people are killed and wounded during this incident?
A. I don't have the exact figure of the people killed during this incident. But I can assure you that there are people who are wounded. Even some of them were airlifted to Juba for further treatment. The majority of them were wounded during the attack on the house of the paramount chief. It is his people who went around and attacked other villages. And on the second day, they also went and attacked people in the morning from 7 am to 9 am. That is why youth from Nabanga organized themselves and decided to confront them. The people of the chief were escorted. They decided to pursue them and reached the house of the paramount chief. So this is what caused the chief's house to be burned down.
Q. So how many people were injured?
A. Those who were injured are five in total. These were injured during the incident at the chief's house. But what I saw with my own eyes are four dead bodies. The first one we found was between Nabanga and Bazande. The other one was found in Yafa. And there was one person who was killed along with his son. Another dead body was found by the CID near the compound of the World Vision in Tambura of a young man who came from Sanafuro who had been living in Tambura for quite some time. During the clashes, he ran away to the airport site and after two days he came to collect some of his belongings from his house and he was found to have been slaughtered.
Q. What are the casualties figures that have been established by the government in Western Equatoria since the beginning of the incident?
A. As we are speaking, there is a committee composed of the National Security who are currently in Tambura for the past one week. They are tasked with finding the exact casualties of the incident. And they should also identify the cause of the conflict in Tambura County. We are expecting them to come back to Yambio within the next two or three days. I would like to note here that the National Security has established a temporary base in Tambura. So we will be working with them closely so that we get a full report about the incident.
Q. How many people were displaced during this incident?
A. About 300 households are believed to have been burned down.
Q. What about the number of people displaced and where are they sheltering?
A. From the first incident, the displaced persons were more than 10 thousand and when this happened, the number could reach over 16 thousand. Some of them are sheltering at Saint Mary Catholic Church, Gabuna Church, Wake Up Primary School, and others are in Ezo. We Will be speaking to the Ezo County Commissioner and he will provide us with the exact figure of the displaced persons.
Q. Can you give some detail about the first incident that you have mentioned?
The first incident occurred between 18 to 22 June and the second one is that incident that led to the burning of the house of the chief.
Q. And how is the general situation in the area as we speak now?
A. The situation is a bit calm now and that is apart from the latest incident that took place here in Yambio the other week, where a group of criminals attacked the house of the Minister of Health. He was on a visit to Juba and one of his bodyguards was shot and killed on the spot. The government officials went to his house along with security personnel to see how the incident happened. We deployed more security forces in his house until he came. But up to now, the general situation is relatively calm. And the situation in Tambura County is also calm because we are getting a daily update from officials there.
Q. As you explained that the incident happened between forces of the defected General James Nando and the IO forces, but yet we are hearing reports about a tribal conflict between Zande and Balanda in the area. Can you clarify this?
A. Yes, these two tribes are indeed attacking each other. When Nando decided to defect he mobilized Zande forces who were with him in I-O to join him and defect to the government. He did the mobilization only in his village and not all tribes around. Mixed forces of Zande and Balanda are there in Namatina. And it is obvious that if one of the two tribes goes and attacks the other, they will fight. When they decided to make a U-turn before they could reach Namatina, they burned houses of the villages along the way without discrimination. These villages are mixed with Balanda and Zande. Villages of Zande such as Naisa, Assa, Sangafuro, and Bazande, are all villages of the Zande community and the commander of the I-O forces of these villages is a Zande, not a Balanda.
Q. So you want to say that there was a mobilization from some leaders of the two tribes who instigated the violence among Zande and Balanda?
A. This is not correct because I can assure you that the commander who is now in charge of the community self-defense force in Singafuro is a Zande. If it was a mobilization between the two tribes, he could not be in charge now. He could have joined his community. But now he is in charge of all the forces there. I want to say; crime is a crime. If a criminal comes they don't select which tribes to harm or not.
Q. What are you doing as leaders of Western Equatoria to bring peace in the area?
A. Let me begin by saying, some people are saying that people don't want to support the government of General Futuyo due to tribalism. We have 10 counties in Western Equatoria. And among these counties, nine are relatively calm with only a few isolated incidents that happened here and there. But only that one county; Tambura County, is having trouble. The question that everybody should ask is, what is wrong with Tambura?
Q. What is wrong with Tambura, then?
A. What is happening in Tambura is a conspiracy that they want to fight the government of governor Futuyo. We have proof.
Q. Can you share with us?
A. No. I cannot give details on record.
Q. What is the way forward to bring the security and stability back to Tambura so civilians can return to their homes?
A. Well, we had paid a visit to Juba as a committee from Western Equatoria. We met with the First Vice President and we handed him some resolutions that could help solve the problem of Tambura.
We suggested that all forces of General James Nando from Yambio and Sosyubu should be assembled and be taken to Maridi, to be under the command of Division 6 of the SSPDF. All forces of the IO in Namatina and Zomoi should be assembled in the Rungu cantonment area. Then, we as politicians in Western Equatoria, would sit together and work as one team. When we resolve all our problems, we would form a committee to be sent to Tambura and to encourage displaced persons to return to their homes. After their return to their homes, we will organize a community conference and resolve the disputes among the two tribes so that they live together. So this was the summary of the resolutions that we handed over to the office of the First Vice President.