Interview: 'South Sudanese journalists harassed in line of duty'-UJOSS President Oyet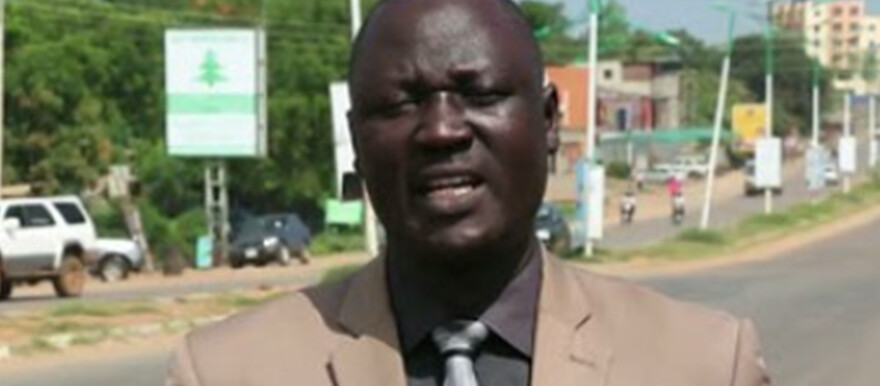 UJOSS President Oyet Patrick. (File photo)
Today, 3 May, the world celebrates World Press Freedom Day, at a time when the media in South Sudan is still struggling, with radio being the number one source of news in the country.
The celebration of World Press Freedom Day dates back to a conference convened by UNESCO in Windhoek on 3 May 1991 to develop a free and pluralistic press.
This year's theme is "Journalism under digital siege" and discusses the impact of the digital age on freedom of expression, the safety of journalists, access to information, and the issue of privacy.
Radio Tamazuj sounded out the president of the Union of Journalists of South Sudan (UJOSS), Oyet Patrick, about the state of the media and practice of journalism in the country.
Below are edited excerpts:
Q: What does World Press Freedom Day mean to UJOSS?
A: For us as UJOSS, World Press Freedom Day is very important because it reminds all the people of South Sudan that we have to promote what is guaranteed in our constitution. Article 24 of the Interim Constitution of South Sudan 2011 talks of freedom of expression and Article 32 provides for access to information. Press freedom is very important.
Q: You have been the president of UJOSS for the past year, what is your evaluation of press freedom in South Sudan?
A: UJOSS' evaluation of freedom of expression and press freedom is that there are still a lot of violations of the rights of those who want to express themselves. These violations are the result of very many reasons. One of them is that the security personnel are individually taking the law into their hands, acting independently without being authorized to carry out some actions. Second is the issue of ignorance, sometimes of the law, and therefore people do not know about for example that the Media Authority Act 2013. Some people do not know that the Media Authority is an institution that has been created by that act and that if you have any problem with any journalist or any person who works with any media house, or even if you have a problem with any media house, the right institution you are supposed to report to is the Media Authority. They are ignorant and do not know this. Some people do not even know that there is now a commission that is responsible for access to information.
Q: Since you assumed office, do you have any statistics on the harassment of journalists?
A: There are many cases and I cannot tell off the top of my head but I can tell you that in the past year, we have had more than 20 cases. We were able to carry out interventions. For example, for journalists who were arrested and detained by National Security, we managed to talk to the officials there.
One of the reasons why sometimes peoples' rights are violated is that the information given to security operatives is false so you find that they have acted on one-sided information. The other side has not been listened to and even when somebody is arrested he has not been given a fair hearing at the facility where they are detained.
Another thing is the closure of media houses where you find that journalists suffer because the places where they work are closed. We have also been talking to authorities at the national and state governments and there are positive responses. We have seen that they take positive actions and they open these media houses. The fact that there are problems and they are ready to talk to us is alone a positive move.
We had several individual cases where one was arrested, detained, letters left summoning a person for questioning. Sometimes they are forced to apologize even when we feel that they did not commit any offense. So, we have had a lot of cases. I am happy to say as for now no journalist is detained according to our records.
Q: Among the more than 20 cases your office had documented, what was the main reason for their arrest? Are there some that are accused of spying on the government?
A: No. There were no cases of spying on the government. Let me take the example of the South Sudan Broadcasting Corporation (SSBC), maybe the journalist refused to read a specific news item and then the case escalates, and later the person is arrested.
Sometimes, a news item is from the opposition groups and then the journalist is arrested. Sometimes, journalists are stopped from covering certain events, and to make sure that you do not cover the story, they remove you from the field and detain you somewhere. So, there is no record of anyone accused of spying on the government.
Q: We had some cases where journalists had to leave the country or they had to terminate their contracts. What is UJOSS doing to protect journalists in such cases?
A: That is one big challenge that we are facing. Leave alone termination of a contract, you find that people are working without a written contract. People just have a verbal agreement; 'come and work and we pay you this amount of money' and then they start working and any violation is very difficult to prove. There are cases of termination without even a warning and termination without following due process.
Sometimes, even where people are working, the facilities are not okay. For example, some radio stations do not have proper toilets and we are engaging with media owners so that the situation improves.
The only thing we can do as UJOSS, for now, is just to negotiate with the media owners because their complaint to us is that the economy is not good. Private media houses have to generate their money through advertisements and they have been complaining that they do not have money so you cannot force them to pay a journalist USD 500.
We are also talking to partners and donors. We want to support journalists through training, we want to support the media and we want to see a free and independent vibrant media that will promote democratic processes.
If a journalist is paid little money, he can easily be compromised and this can affect his work. It is not professionally accepted.  You are not supposed to take money for stories you cover.
The economic situation is bad. For example, how can an independent television station generate income through advertisements? Which companies are going to come and advertise? Which are the factories that can pump money into the region? Almost nothing!
Q: In such a situation, do you think South Sudan journalists have been doing enough to protect their sources?
A: I think they are doing their best as far as the issue of protecting sources is concerned. And sometimes it brings journalists to conflict with even security operatives because sometimes they demand that you tell us who said this or how did you interview this person.
So to think in that area, journalists are trying their best.
Q: What is your plan for capacity building for journalists in South Sudan?
A: The needs are very many and resources are limited but we are trying our level best. Right now, UJOSS is in the process of moving around all the ten states, setting up offices, and carrying out elections. We have already done it in Rumbek, Torit, and Bor. This week we are in Yambio and we will be proceeding to Wau, Malakal, Bentiu, and all over the ten states for better coordination to monitor what is going on with colleagues in the states.
We are also conducting training wherever we go and we have support from UNESCO. We do pieces of training on the constitution-making process, issues of ethics, reporting on human rights and security, and so forth.
One of our mandates is to promote professionalism and we cannot promote professionalism without building the capacity of the journalists.
In 2013, the Media Authority Act was passed, then SSBC Act came up, access to information was also established, and then you have the National Communication Authority. The laws came from the information ministry and parliament created different institutions.
Therefore, a journalist who started practicing journalism before independence in 2011 in Bor or Yambio may not have access to this information.
For example, look at the constitutional making process. In the University we are not taught to go and work on the constitutional process. For the peace agreement, you need the journalists on the ground to be trained on these processes so that they understand, report accurately, and provide proper information to the public. More things are coming like the elections.
Q: How many journalists are there in South Sudan?
A: Approximately more than 700 journalists across the country but unfortunately, the sector is dominated by men. There are more than 200 female journalists. In Juba, the number is almost equal but when you go to the states, you find that men dominate everything.
Q: Any last words?
A: This is the time that we need to sensitize people about press freedom, our work, and how we help society. This month is very important for us. I urge the authorities to allow journalists to do their work in a free environment and to continue to pass much-needed information to the public and get information from the public as well.
The government should cooperate and give us information that is in the public interest. When a journalist asks for an interview, they should avail time. This information helps us to clarify rumors and conjecture.
To my fellow journalists, let us continue with the struggle, continue with the work, and let the people know their rights.