INTERVIEW: 'Our activities are on course,' PCCA signatory declares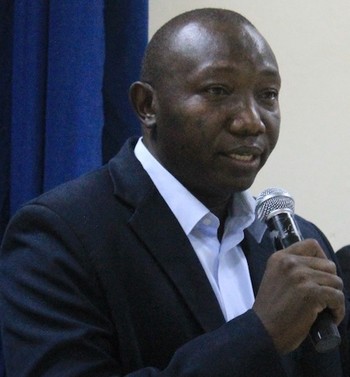 Executive Director of the Organization for Responsive Governance Rajab Mohandis
Rajab Mohandis, the Executive Director of the Organization for Responsive Governance, and a signatory to The People's Coalition for Civil Action (PCCA), a civil movement calling for public campaigns demanding political changes in the country, says the arrest of their member and intimidation only fuels the need for changes in the country.
The former caretaker governor of Northern Bahr el Ghazal state Kuel Aguer Kuel, also a signatory to the PCCA was arrested by South Sudan's National Security Service (NSS) on Monday, days after the PCCA made public a declaration calling South Sudanese to mobilize and "make their voices heard", warning that if nothing changed, the country could be heading back to war.
Mohandis who is in hiding together with researcher and Managing Director for Sudd Institute Abraham Awolich for fear of arrests told Radio Tamazuj that the PCCA's activities have not been affected and that they are mobilizing South Sudanese citizens to come out en masse to demand changes.
Below are edited excerpts:
Q. What is the update concerning the arrest of the former governor of Northern Bahr el Ghazal and the closure of the Sudd Institute?
The governor is still under arrest at the National Security office and his family members are allowed to visit him. And we as The Coalition remain concerned about his detention and we demand that he be released and allowed to go home. We believe he has done nothing wrong. Only his participation in the coalition later and this is not something which goes against the constitution. This is his personal right as a South Sudanese. We, as the coalition, also are preparing to send a message to the general public so that South Sudanese know what is going on.
Q. Is governor Kuel detained alone or are there other members of the coalition also detained along with him?
A. No. He is the only member who is in detention.
Q. How is his health condition at the moment and what are his family members saying about his detention?
A. He is well and sounds like nothing is wrong with him. But his family members are not happy with his detention. And it is the hope of his family members, the coalition, and the general public of South Sudanese that he is released immediately without any condition.
Q. We understand the safety of your members over the past few days in Juba is not guaranteed. How is it now, are you guys free to move within Juba, or are you still in hiding?
A. I am not moving out at all and I know if they get me, I will be arrested. They don't like people talking about the bad situation facing people in South Sudan. Because there is no chance for South Sudanese to sit with the government and discuss how issues affecting the country would be resolved. If you give any suggestions about changes in the country, immediately you will be arrested. We have a responsibility to inform the public so that they have a voice. That is why I am in hiding. Otherwise, we will all be in detention and no one will be in a position to organize or direct the program of the coalition.
Q. For how long are you going to be in hiding and how are you planning to engage the citizens?
A. We are working with all our team. The coalition is not only the four of us who signed the document. It seems to the security that the four of us who signed the document are the main force behind the program of the coalition. We have many members and all of them are working in the mobilization.
We are managing our work through networks, telephone, and internet so the work has not been affected.
Q. As you are now in hiding, what is your next step? Are you planning to leave the country or go into a safer place?
A. There will come a time where we will also be joined by all citizens on the streets. We are ready even to go to the office of the National Security. But for now, we still have the responsibility of mobilization. If we are in detention, we will not be in a position to carry out this mobilization, and this will demoralize some of our members and South Sudanese citizens.
This is not going to take us long because after a while we will be on the streets together with our citizens. The situation in South Sudan should change. We will not continue to go for another ten years in the same situation where conflict is the order of the day. People are tired, the citizens are leaving the country and the majority are living in the refugee camps in the neighboring countries.
Q. Who are other members of the coalition? Are there some political leaders within the government with you?
A. In fact, if there were only four of us, we would not be in a position to do anything. There are many of us.
Q. How many are you?
A. I don't know how many there are but we are many and it is mass mobilization. We have representatives from women, youth, political leaders, army commanders, and many South Sudanese who are supporting this change. They are convinced that this country can no longer go ahead in the next ten years with the same situation of the past wasted ten years. There must be a change in the situation. We are just voicing the concerns of the citizens to the government that this situation should change. So we are many.
Q. But the public has been wondering, who are the main figures behind this coalition?
A. First of all, there are people who think that South Sudanese cannot think for themselves unless they seek support from outside the country. And if South Sudanese are voicing out grievances, people think that some countries are behind these ideas. But what I want to confirm is that what has been voiced out in the declaration is the voices of South Sudanese. We have taken a long time to meet with different groups and listen to them.
I participated in the peace negotiation and now I am a member of the implementation team and I also played a role in the National Dialogue. So we have listened to many people not only in Juba but across the country. We have understood the ambitions of our people and these are what we summarized in the declaration document. We didn't get any single idea from outside the country and I would like to assure the public that it is the voice of South Sudanese for South Sudanese alone.
Q. Political movements seek support from friendly countries just like many foreign countries stood with South Sudan to gain its independence. So, are there any countries from whom you might seek their support regarding this matter?
A. All these countries are putting all their efforts towards the revitalized peace agreement. But we are convinced that this peace agreement is not going anywhere. It was signed in 2015 and the following year it collapsed. Again it was revitalized and signed in 2018 and now the implementation is not going anywhere.
Most of the reports that we receive from different mechanisms following the implementation of the peace agreement are saying most of the articles of the peace agreement are not being implemented. So we totally understand that this peace agreement which is supported by the region and international community is not taking this country anywhere and will never change any situation.
That is why, we decided to voice out the concerns of the people of South Sudan during the negotiation, the National Dialogue, and voice them out to leaders of this country and tell them that people need a change in this country and these are their needs.
Q. So what is your next step? What can the people of South Sudan expect?
A. We are still at the mobilization stage and soon we will encourage citizens to go on the streets so that they demand change in this country. We will announce this in the coming few days.
Q. Many voices are saying it is not possible to overthrow the current transitional government because it came as a result of the peace agreement which put an end to the seven-year-long conflict. Do you have the capacity to do this?
A. There are people who are still thinking that the SSPDF and forces of the SPLM-IO can no longer go to war again because there is peace in the country. But if there was comprehensive peace in the country, refugees are supposed to return to their homes. We are still hearing a lot of conflicts around the country. Insecurity is rampant across the country and the economy of the country is deteriorating day after day and many more. Peace is not only that the government has been formed but it is for the safety and security of the citizens. There would have been a real change in the situation of the citizens.
So we totally understand that our citizens are suffering. Even those working as civil servants are unable to get a salary that can sustain them for one day. Some are getting two or three dollars in a month and yet you don't get paid every month.
If you look at the suffering of the people, you will conclude that everyone is not happy with this situation. There are health issues, education and everything is not going well. These are what made people unhappy.
People are aware that there is no future for this country with the current situation. If the peace agreement is well implemented, there would have been much development taking place. So parties to the agreement are deliberately dragging their feet and don't want to fully implement the peace agreement and bring changes in this country. These are part of the actions that are affecting the citizens in South Sudan. That is why people demanded change. We believed that if we called people to go on the streets, they would definitely do so.
Q. What are your mechanisms for overthrowing this regime? Putting in mind that people are not united and there are no strong independent unions that would help people rally behind and yet some of them are under the control of the government?
A. We totally understand that the beneficiaries of this situation are only a few individuals. The majority of South Sudanese within the country, in the refugee camps, and outside the country are not happy with this situation. There are several strategies that we are going to use and it is not an appropriate time now to disclose them.
Q. Are you also considering a military intervention in this?
A. No. We don't have any military back up but we are only civilians demanding change in this country. We believe that it is our right to speak about things that are affecting this country and the situation must change for the better.
Q. Are you guys seeking regional and international intervention for the release of former governor Kuel Aguer or is he going to remain in detention as a victim of the declaration?
A. No, no. Kuel Aguer should be released and if he remains in detention, this will give a chance to citizens to demand his release.
Q. What are your guarantees for him that he will be released? Many leaders have been in detention for quite a long time with no clear charges against them?
This is one of the reasons why we want people to go on the streets. Many people have been detained for a long time for no clear reason. Our people have been suffering even before the independence and are put within the same building that is used now for detaining South Sudanese. These are practices that we want to put an end to. We need the rule of law to prevail in this country. If anyone has committed anything wrong, s/he should be tackled in accordance with the law.
Q. Do you expect the current transitional government to change its strategies in the coming days and begin to implement the remaining provisions of the peace agreement?
A. If the transitional government was serious in the implementation of the security arrangements, most of the ongoing divisions would have not taken place. They have not formed the unified army that is prompting division among the IO forces and creating other conflicts such as in Western Equatoria. All these are serious threats to the peace implementation and if they are not resolved amicably it will take this country back to square one. And this is evidence that this peace agreement is not being implemented at all.
Q. Do you have any additional information you would like to add?
A. We only need changes in the current situation and if the peace agreement was well implemented, this country would have been experiencing development. These made people suffer and these are the calls of the coalition that they should come to an end. So we call upon the citizens that they should raise their voice so that this country can develop.