Interview: Absent ministers rile Governor Obudhok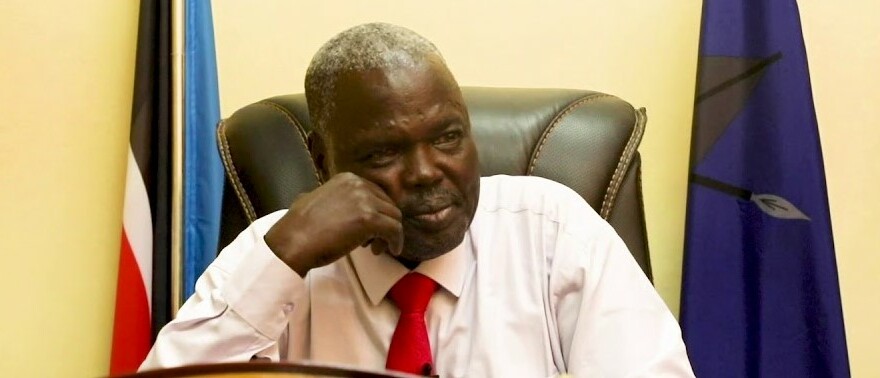 File photo: Upper Nile State Governor Obudhok Ayang
Persistent absenteeism by most of the ministers in Upper Nile State from the duty station in Malakal has irked the governor. He said the absenteeism is affecting his service delivery plan.
Malakal is the second-largest city in South Sudan. For years, it has been largely deserted as civilians fled the civil war that broke out in December 2013. But some are returning home to rebuild their lives after the formation of the unity government in February 2020.
In Malakal town, Radio Tamazuj caught up with State Governor General Obudhok Ayang Kur and discussed a broad range of issues affecting the state.
Below are edited excerpts:
Q: Governor Obudhok, we have noticed that most of your ministers are absent from their duty station in Malakal. What is the reason?
A: It is affecting service delivery. I have issued an order that the ministers should not leave Malakal. Most of the ministers have been going to Juba to attend workshops, and after workshops, they do not come back immediately; they stay for almost a month in Juba.
I said workshops would be stopped. As the governor, I have been staying in Malakal for almost a year, I did not go to Juba, so I worked on improving the security situation. But our ministers do not understand this point. Some ministers say that we are going for a workshop, or one would come and say that my party in Juba has invited me.
The absenteeism of ministers is affecting us a lot because it slows down the work and service delivery. The primary responsibility of a minister is to provide services to the people. The time has come for us to be serious and stop the travels of state ministers to Juba. This is what I am going to do.
Q: Many public servants returned to Malakal, but your administration has not yet paid them. What is your plan?
A: I have issued an order that all government employees who returned to their workplace in Upper Nile should be paid their salary. Also, I directed the minister of finance to revise all the names and those who have returned so they can be paid their salary.
But because we did not have directors-general in the state, it became difficult to work effectively. We had just appointed directors-general recently. I am now waiting to receive the lists of the employees who reported to their respective ministries so that they are paid because the money is there. We have the money.  The main challenge now is technical, we need the technical people to finalize their work, which might take time. The two ministries of labour and finance need to sit down and revise the lists and grades of all the employees in the various state ministries.
Q: What is the main challenge facing the technical officials in their work?
A: They have been complaining about the lack of desks and chairs in their offices, but I advise them to work even though those things are not there. They can even work while standing, and soon, those things will be there. The priority now is how those employees can be paid because we have the budget to pay them.
What I want to tell our employees is that be patient; we are working on your salaries. It is a lot of work because what we are doing includes the salary structure. We cannot pay them the compensation that they used to get before the war broke out in 2013, so these are the things we are working on. The ministry of finance is working on it; I am just waiting for them to finalize their work and then tell me to go ahead and approve the payments.
Q: Governor Obudhok, how is the security situation in Upper Nile State?
A: Thank you for this question. The security situation generally in the state is calm, except for the area of Tonga in Panyikang County, where there was fighting between the two factions of the SPLM-IO Kit-Gwang in the last few days.
We invited the media recently and informed the citizens in Upper Nile about what was happening in Tonga and explained to them that the infighting among the SPLM-IO Kit-Gwang factions is between military factions only; it is not between communities. In Malakal town, the security situation is very good.
Q: After the fighting in Tonga, river transportation from Juba to Malakal stopped. What is the new development?
A: Yes, the suspension of river transport had affected Malakal town after the recent fighting among the military factions of Kit-Gwang in Tonga because most goods come to us from Juba. We had experienced rising prices and scarcity of essential commodities in the market here in Malakal. So our message to our brothers in Kit-Gwang is that sit-down and resolve your differences because we are also affected by your differences.
In the last few days, three boats managed to come to Malakal town because there is relative calm in Tonga. We call on our brothers to stop fighting and resolve their differences because fighting affects citizens. Our citizens are now suffering in Malakal because the prices of goods have increased in the market. For example, the price of a sack of durra has reached 50,000 SSP, which is very expensive for the citizens.
Q: What is your plan for peace and reconciliation among the communities?
A: In the first week after I was appointed as state governor, I sat down with all the communities of Upper Nile and discussed with them how we could restore peace in the state. I engaged them, and they also gave me some ideas on peace and reconciliation.
When we started, we started with the Baliet area; we met with the community leaders and agreed to allow boats to move from Malakal to Ulang and Nasir. We also visited Baliet, Gelachiel, Adong, and Abong areas.
Also, we made peace between the Ngok Lual Yak and Ulang communities so boats could move normally. Now, boats are operating and moving, so the area that remained at that time was Maiwut because there was a disagreement between the military there. I visited Maiwut, the military chief and his deputy managed to resolve the problem, and the security is now calm in Maiwut.
Between Melut and Longechuk, there was an initiative for peace, and we agreed to open the road between Melut and Longechuk, and the two communities agreed to reconcile. So the road is now open, and the communities from both sides are peaceful. Now the state is peaceful, and people move freely without any problem. Our plan to achieve peace and stability has succeeded. I would like to inform our president that everything is fine in Upper Nile because the assignment given to me by the president was to work for peace and security in the state.
Q: In your plan, when will the refugees and internally displaced people return to their areas?
A: As you know, the repatriation of refugees is a big project that needs collaboration with the national government and international organizations. My message to our people in refugee camps is to come back to Malakal to rebuild the town and rebuild their houses. Honestly, there is a challenge in Malakal because there are no houses. The neighbourhoods in Malakal were destroyed during the civil war. I can tell our people that come back because the security situation in Malakal is stable.
For the refugees to return to the state, there is a need for support from international organizations. What I can guarantee is security, but there is a need for help from the other partners. Our people in the UN camp are ready to come out, but they do not have homes in Malakal town.
Q: What is your final message?
A: My message to the public is that the security situation in Upper Nile is stable. I want our people to come back to rebuild our state and our town. All the houses built with bricks and strong materials still stand, but homes built with mud have collapsed. So I appeal to our people who left Malakal town to come back. Thank you.