International Sports Day: Can sports bring peace to South Sudan?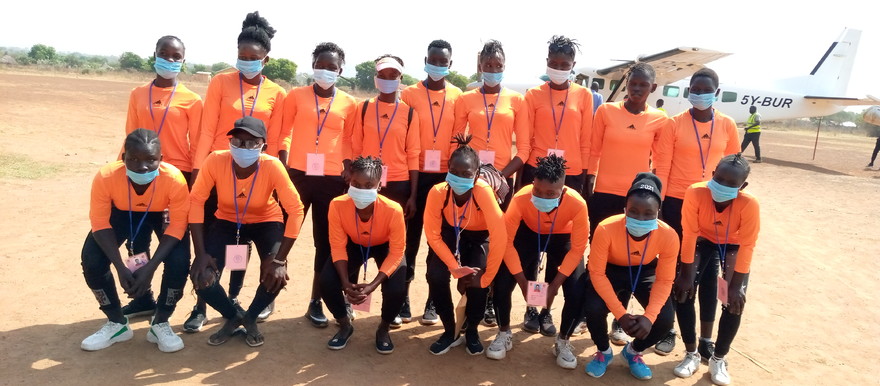 Torit Women FC
Every year on April 6, the world commemorates the International Day of Sport for Development and Peace.
According to the United Nations, the day presents an opportunity to recognize the role that sport and physical activity plays in communities and people's lives across the world.
However, the global Coronavirus pandemic has necessitated the suspension of global, regional, and national sports activities.
But in his message, the UN Secretary-General António Guterres said, "As vaccines spread hope and spectators begin to return to arenas, the world of sport has crucial contributions to make in forging a safe and sustainable recovery. We will play and cheer again when everyone is safe from the pandemic."
Coming back home, we interrogate the role of sports in fostering peace and unity. Our focus is the recent women's football league which saw teams travel to different regions for the tournament. We speak to three women's football teams in Yei, Wau, and Torit.
Yei, Central Equatoria State
Malish David, a coach for Yei Joint Stars women football club told Radio Tamazuj that despite challenges facing the country, sports promote peace, unity, and social cohesion across diverse communities.
"The experience which I got as a coach is that we were able to move from one state to another and meeting different coaches from different places across the country and while in this visits, we already built elements of networking and collaboration among players, leaders of football associations and coaches," he said. "Women are also allowed to play football and they have been allowed to travel from state to state."
He adds, "Since we started the league we have been progressing very well and this motivated me and currently Yei Joint Stars is the second in the ranking. Another good thing is that seven of my players from the Yei Joint Stars have been chosen to play in the national women's football club so I am proud of my players."
David said players have been faced with a huge challenge of lack of consistent training, poor playgrounds, lack of sports equipment, lack of funds, and insecurity in different parts of the country.
He appeals to the government and sports lovers to support football activities through fundraising, provision of training materials and equipment as well construction of modern training facilities across the country.
"We need to support and strengthen women's football in South Sudan by setting up a football academy in all the football associations to facilitate training programs. My message to the government is that there is a need for peace so that we support the football activities across the country," he said.
David pointed out that next week, the South Sudan national women's football team will meet their Ethiopian counterparts for a friendly match in Addis Ababa.
Florence Kasmiro, a female player with the Yei Joint Stars football club said through sports, she can make new friends from other parts of the country.
"As a player, I was able to create friendships with my counterparts in the states where went to especially in Wau, Yambio, Aweil, and Torit. This is because of sports and we believe peace will come to South Sudan although we don't benefit economically, I am able to make a lot of friends and gain new skills and knowledge through sports,"
Florence also noted that cultural beliefs, poor playgrounds, and lack of quality training remain a major challenge.
"I have realized that the most important thing that will bring people together and forget about conflict is sports and through football, peace is returning slowly and we want the government to take women sports as one of the most important things and I am more encouraged to be one of the best players and I will be one of the best players in my country one day," Florence said.
Having picked interest in the sport in 2012, Florence says she aspires to make the country proud by being the best female football player in the country.
Wau, Western Bahr el Ghazal State
The women's football team in Wau of Western Bahr el Ghazal State echoed the same message.
Wau women team coach Rabi Mohamed Abakar said sports are very important in peacebuilding because sports bring people from different backgrounds to play as a family.
Mohamed who became the team's coach in 2019, says sports have helped him to be more peaceful in his approach in life.
He said the regular visits to other states have taught him that sports can help restore or mend broken relationships. He also admitted that his work as a coach is a huge responsibility to ensure teamwork and coexistence.
Meanwhile, Natalia Taban John, the club captain of the Wau team said the teams offer youth an opportunity to know members of other communities because it unites all 64 tribes of South Sudan.
Despite the economic hardships across the country, Natalia acknowledged that their club often takes responsibility for its players' health and wellbeing.
Torit, Eastern Equatoria State
The Torit Women FC coach Umjuma Philiph Atrun said during the recent tournaments across the country, they have been received well by the teams in different places.
"All these times we have played football we have known many people and this is the beginning of unity. You can now go from state to state and you will not stay in a hotel because now you have friends there and you will be welcomed with ten hands," she said.
Umjuma said the players are the peace ambassadors after meeting and interacting with other South Sudanese communities.
"They have known many places and people and there will be no conflict. they have built relationships through games, exchanged contacts and the most important thing now is there is Facebook, every game they had is posted, Warrap will post to Torit and other states do the same. This is a new relationship," she pointed out.
She said, contrary to popular belief, sports do not pay. She said sometimes they end up relying on well-wishers to finance their activities, but due to their love for the sport, they are determined to continue.
Umjuma also decried the lack of resources for women's sports in the country as a major hindrance to success. She also called for exposure for the players so that they can emulate bigger teams.
For her part, Esther Kiden Kute, a player at Torit Women FC said, "We got new friends. We also have challenges that we face, some people like you and some hate you. We have got new friends and we have also got new skills from them and we beat them."
In addition to the challenges mentioned earlier, Kiden said lack of moral support from leaders and families, cultural beliefs, and favoritism within teams discourage upcoming players.
"I have taken sports like if you give me money, I will accept but my aim is I want to achieve my goals. I cannot say that the ball am playing am given money, no. I want to tell people out there that I am not given any money in this football, I am just struggling so that I will progress like other people am seeing," Kiden added.
As a parting shot, Kiden said, "I will tell my girls out there they shouldn't see sports from a negative angle. First of all, it is part of exercise. Number two you will have the opportunity to see many places. It will become part of the story you will write about yourself. Football does not spoil people, in fact, it even controls girls from doing many wrong things."