Intercommunal fighting on-going in Lakes State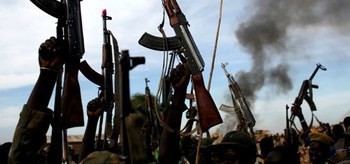 Authorities of the defunct Eastern Lakes State confirmed that inter-communal fighting between Yirol West and Rumbek East counties is on-going in Alualuak Payam after a cattle raid that left one person dead and an unknown number of homes torched in Mayom-cuei village on Sunday.
Speaking to Radio Tamazuj on Monday, the Executive Director of Ngop, Benjamin Mayor Deng said the incident was triggered when armed youth from Alualuak Payam of Yirol West County raided over 70 head of cattle and killed a cattle owner in Akot Payam of Rumbek East county on Sunday evening.
Mayor said when the incident occurred, the armed youth from Rumbek East County of the defunct Western Lakes State attacked the area of Mayom-cuei village and burned down houses.
"This morning of Monday at 5:00 am there is another attack in Alualuak Payam, and fighting is ongoing and it has reached old Alualuak Payam," he said.
The Executive Director of Yirol West county Dhuor Apiu Athian confirmed the clashes saying details of casualties are not clear as fighting was ongoing.
"I have no exact number of casualties at the moment because fighting is ongoing. I will give you exact details of death casualties and wounded people when the fighting has subsided and a report is given to me," said Dhuor Apiu.
The secretary-general of defunct Eastern Lakes State Barnaba Mayor Deng said the governor has despatched organized forces to the scene of fighting in Alualuak Payam and Akot Payam, but he says the number of forces sent is not sufficient.
He appeals to the government in Juba to disarm the civil population in Lakes State.
Radio Tamazuj will keep you updated on the situation there.