Insecurity hinders Sudan, South Sudan border demarcation: official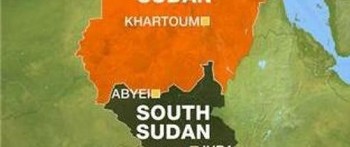 South Sudan's government said insecurity along the common border between Sudan and South Sudan is the greatest obstacle to the work of the joint border demarcation committee.
Michael Makuei, South Sudanese information minister and chairman of the South Sudan border demarcation committee, told Radio Tamazuj on Wednesday that very little progress has been made due to insecurity. He claimed that rebel movements in Sudan are causing insecurity along the common border.
"Border demarcation has seen some progress in the Nuba Mountains, Blue Nile and, Hufrat An Nahas but some of the areas are not yet safe for the joint committee to go," he said.
Makuei further said they are yet to receive an official invitation to participate in the joint border committee meeting scheduled to take place next month in the Ethiopian capital, Addis Ababa.
He reiterated South Sudan's readiness to participate and discuss border issues between the two neighbouring countries, as well as the implementation of the 2012 Joint Cooperation Agreements.