BUNJ/MAIWUT -
21 Aug 2017
Insecurity disrupts aid delivery in Maban and Maiwut counties, says UN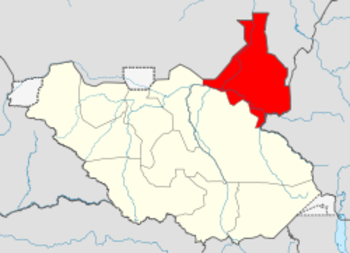 South Sudan showing Upper Nile in red
Fighting and insecurity in Maban and Maiwut counties in Upper Nile are disrupting provision of humanitarian assistance and displacing thousands, a UN agency said.
The UN Office for the Coordination of Humanitarian Affairs (OCHA) said in its update last week that fighting between government and opposition forces resumed in Maiwut town on 27 July and spread to border town of Pagak in the following days.
The agency said most citizens have left Pagak and have taken refuge across the Ethiopian border. "Reportedly, people who crossed the Ethiopian border prefer not to register as refugees, hoping that soon they will be able to soon return to South Sudan," OCHA said.
It further said humanitarian organizations already relocated staff from the area in early July due to increasing insecurity, adding that there are also reports of looting of humanitarian compounds in Maiwut and Pagak towns.
Separately, the organization said inter-communal clashes were reported at Kilo 10 between Mabanese and Dinka youths at a border between Melut and Maban counties on 2 August.
It further said some 27 aid workers were relocated on 4 August from Bunj, Maban County, due to the heightened tensions. OCHA pointed out that humanitarian activities in the area, which host four refugee camps, were temporarily disrupted.