Individuals siphoned money in Nimule, left govt broke: official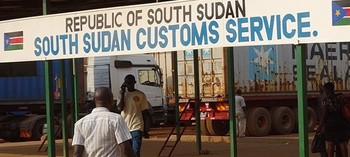 South Sudan's government said some officials siphoned off money collected from non-oil revenue at the customs station in Nimule, alleging individuals in custom service there diverted huge amounts of money for their own benefit.
Nimule is the country's main exit where main non-oil revenue is being collected. The eastern African country is depending on oil, with oil accounting for more than 85 per cent of its exports.
In a statement to the press after President Kiir's visit to Nimule on Sunday, the minister of the office of the president, Mayiik Ayii Deng said the government is struggling with a huge financial gap, hence affecting its functions.
"The president went and inspected the customs checkpoint and saw trucks coming in, and yet we are still broke not paying salaries. This money is being siphoned off by individuals," he said.
The official stressed that corruption will not be tolerated any longer, declaring that his government will initiate tough steps to deal with those who are stealing public funds.
He revealed that the president has appointed a Ghanaian national to be the commissioner general for customs service to improve the country's non-oil revenue collection.
A new report released by The Sentry group on Monday, found that South Sudan's government is also using the country's oil wealth to get rich and terrorize civilians.
The Sentry report purports to describe how funds from South Sudan's state oil company, Nile Petroleum Corporation (Nilepet), helped fund militias responsible for horrific acts of violence.