Independence day horror: 146 confirmed killed in Friday Juba clashes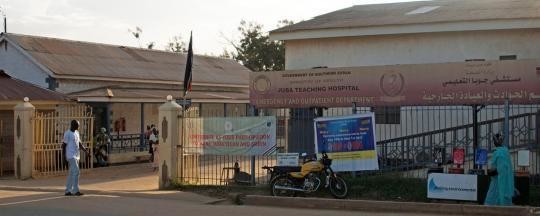 146 people are confirmed killed in the clashes of Friday afternoon in South Sudan's capital Juba.
A medical source confirmed that 109 dead bodies have been brought to Juba Teaching Hospital since the fighting.
Separately, an SPLA-IO military source confirmed 37 of their side were killed, but none of them were taken to Juba Teaching Hospital. The source said these 37 were all killed in the clashes of the presidential palace known as J1.
Juba has been calm Saturday 9 July, which is South Sudan's anniversary of independence.
Last night gunfire erupted outside J1 as president Salva Kiir, first vice president Riek Machar, and vice president Wani Igga were meeting inside.
The shooting then spread to nearly all neighborhoods of the city, including outside the UN base near Jebel where some 28,000 displaced people were sheltering
It remains unclear exactly who was fighting each other in each place or the cause of the fighting.
Update 15:43 9/7/2016: Witnesses report that the city is still tense with heavy military presence in Juba including checkpoints manned by what are described as aggressive soldiers from SPLA, police, and National Security personnel.
UN patrols have been stopped from leaving their two bases in Tongpiny and Jebel. The head of the UN Mission in South Sudan Ellen Løj is said to be in the US embassy, according to media reports.
Some international organizations have begun to evacuate their staff, including the International Monetary Fund and the Overseas Development Institute. Foreign embassies are discussing whether to evacuate staff.
Update 16:16 9/7/2016: The UNMISS said that several rounds hit buildings in the UN House compound near Jebel on Friday evening, and that hundreds of civilians have fled inside. More civilians are also reportedly taking shelter in the Tomping site.
"UN peacekeepers have increased their presence on the perimeters of PoC sites 1 and 3 [at UN House], and enhanced their patrolling both inside and in the vicinity of the sites. UNMISS is providing medical assistance to injured civilians from the PoC 1 site," UNMISS said.
According to UNMISS, the mission chief Løj calls on the parties "to cease hostilities, and avoid the mistakes of the past in order for South Sudan to move forward in peace."
More to follow...