IGAD, Troika insist Machar return by Saturday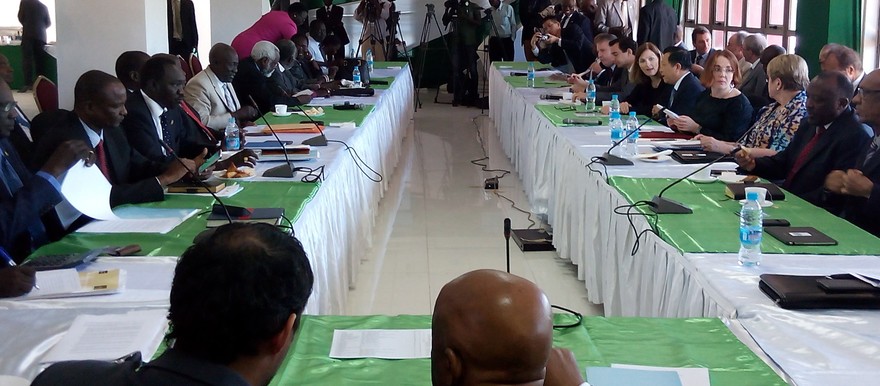 Supporters of the Joint Monitoring and Evaluation Commission (JMEC) including the East African bloc IGAD and the Troika countries of the USA, Norway and the UK have made a proposal insisting that SPLM-IO Chairman Riek Machar return to Juba by Saturday latest.
In a statement circulated to press today, diplomats stated that adequate security arrangements for Riek Machar's return have already been in place since 10 April.
In spite of this, Machar made additional demands shortly before his scheduled flight from Gambella to Juba this Monday.
"The partners express our profound disappoinment in the decision by Dr. Machar on 17 April to impose new conditions on his return to Juba, including the demand that his Chief of the General Staff, General Simon Gatwich Dual, as well as additional forces and light and heavy weapons, precede his arrival," reads the statement.
According to the statement, which was endorsed by diplomats of ten countries plus the African Union and European Union, Machar's decision places the country at risk of further conflict.
They also regretted that Machar's decision caused inconvenience to the government, which had scheduled his reception and inauguration.
However, the diplomats noted that the government has "overwhelming military force and superiority in Juba." In light of this, they encouraged the government to show flexibility in regard to the size and composition of Machar's delegation.
The diplomats requested the JMEC Chairman Festus Mogae to convey a proposal to the government and SPLM-IO to ensure Machar's imminent return.
The proposal limits the composition of forces accompanying Machar on arrival to 195 men, 20 PKMs, and 20 RPG-7s. Ceasefire monitors shall verify these weapons in Gambella and on arrival in Juba.
"The regional and international partners underscore our strong objection to the introduction of any new conditions to the security arangements in Juba."
"We also share our expectation that Dr. Machar will return as soon as the necessary logistical and security arrangements can be put in place, but no later than 23 April," adds the statement.
If the parties do not agree to this proposal, then JMEC's chairman will request that the East African regional bloc IGAD hold an emergency summit, where he would report to the leaders of those countries that the parties have failed to abide by the peace deal.
The statement also threatens that Festus Mogae would report the failure of the parties to abide by the peace agreement to the UN Security Council and "request consideration of an appropriate response."
The statement was endorsed by Kenya, Ethiopia, Uganda, Sudan, African Union, China, European Union, Norway, United Kingdom, United States, Canada, Netherlands and UNMISS.