IGAD to meet as South Sudan peace deal falls behind schedule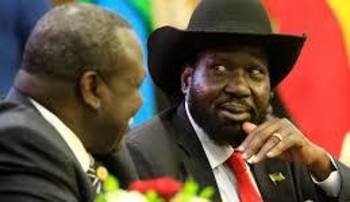 South Sudan's President Salva Kiir (R) talks to South Sudan's rebel leader Riek Machar as they sign a cease fire and power sharing agreement with in Khartoum, Sudan August 5, 2018. /REUTERS
The IGAD Council of Ministers will hold a meeting on South Sudan this month as the peace deal falls further behind schedule, a top official said.
The revitalized peace agreement signed in September will see the creation of a new unity government after eight months.
Mawien Makol Ariik, the official spokesman of South Sudan's Ministry of Foreign Affairs, told Radio Tamazuj on Thursday that the upcoming IGAD council of ministers' meeting will assess the implementation of the pre-transitional period to ensure that the peace deal is implemented as planned.
"The people of South Sudan want this peace. People are working hard to ensure that the transitional government is formed by May 2019," he said.
"The pre-transitional committee is working to meet the deadline because we are left with six months only," he added.
Meanwhile, South Sudan's Information Minister Michael Makuei admitted that the implementation of the peace deal has run behind the schedule and urged all peace mechanisms to expedite the implementation process.
"We are almost left with six months and within these six months, we need to expedite the process so that we can catch up and compensate for the lost period," Michael Makuei said after the pre-transitional committee meeting in Juba on Wednesday.