IGAD special envoy in Juba for consultations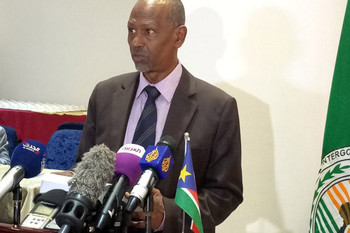 Photo: IGAD Special Envoy for South Sudan Amb Ismail Wais [Gurtong]
The IGAD Special Envoy for South Sudan, Ambassador Ismail Wais, is in Juba to carry out consultations with government officials before the revitalization process of the 2015 peace accord next month.
The especial envoy seeks a broad range of views before the conduct of the second phase of the revitalisation forum that aims to return to the signed peace agreement.
Ambassador Wais said he had productive and positive meetings this afternoon with South Sudan government officials in Juba." We look forward that we keep the same spirit on the process of peace," he said.
John Andruga Duku, Director of International Organizations at the Ministry of Foreign Affairs pointed out that the especial envoy conducted consultations in Juba where he met with minister of cabinet affairs Martin Elia Lomuro and other stakeholders.
"We assured him [Ismail Wais] that the government delegation is ready, and also our stakeholders after consultations with them. Everybody in South Sudan is yearning for peace," he said.
Duku reiterate his government's commitment to bring about peace in the country.