IGAD's foreign ministers meet Machar in South Africa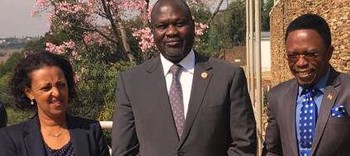 The Inter-Governmental Authority on Development (IGAD) foreign ministers Tuesday met with former South Sudan First Vice President Riek Machar in Pretoria.
Ethiopia's Hirut Zemene, Kenya's Ababu Namwamba, IGAD special envoy for South Sudan and other officials met with Machar in South Africa as part of efforts by the Intergovernmental Authority on Development (IGAD) to maintain peace in South Sudan.
Machar, who leads the Sudan People's Liberation Movement – In Opposition (SPLM – IO) has been in exile in South Africa since renewed clashes between his forces and those of the government erupted in 2016.
Manawa Peter Gatkuoth, deputy head of the SPLM-IO committee for information, told Radio Tamazuj that the meeting discussed IGAD Council of Ministers' decision to release rebel leader Riek Machar released from house arrest in South Africa.
"The discussion in Pretoria today focused on the possibility of Machar's release. More details will follow after IGAD issues its statement," Manawa said.
The top opposition official pointed out that the meeting also discussed issues pertaining to the peace process in South Sudan. He accused the Juba government of lacking seriousness in peace in the country.
In March, East Africa's eight-country trade bloc said it wanted to release South Sudan's exiled rebel leader Riek Machar from house arrest in South Africa if he agrees to renounce violence amongst other conditions.