IGAD proposes hybrid court with no amnesty for South Sudan war criminals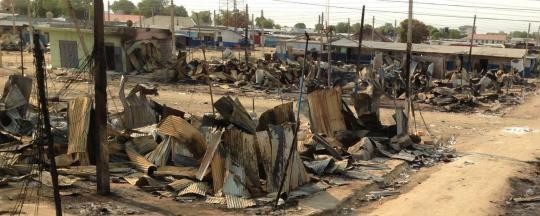 IGAD's latest peace proposal says that no amnesty will be given to any individuals responsible for commiting crimes from 15 December 2013, regardless of their positions.
The proposal, which is being considered by the government and opposition and is linked for download below, provides for the establishment of a Hybrid Court for South Sudan to investigate and prosecute those believed to have planned, ordered, instigated, or participated in genocide, crimes against humanity, war crimes, and other serious crimes during the civil war.
"No one shall be exempt from criminal responsibility on account of their official capacity as a government official, an elected official, or by claiming superior orders," IGAD's proposal said.
Hybrid courts have been established following conflicts in Europe, Africa, and Asia to achieve justice for crimes which break international or national laws. The Hybrid Court for South Sudan, if constituted, would also have jurisdiction over gender-based crimes and sexual violence.
IGAD proposed that the court's judges, prosecutors, and defence lawyers be Africans who are not from South Sudan. The court would be independent and distinct from South Sudan's judiciary, and carry out its own investigations. It will also have primacy over national courts of South Sudan.
The proposed hybrid court may order the forfeiture of stolen property, proceeds, and assets, and their return to their rightful owner or to the state of South Sudan. It can also recommend compensation for victims.
IGAD said the court would be established by a Memorandum of Understanding between a proposed Transitional Government of National Unity, the African Union commission, and the United Nations.
The transitional government, if formed, would be required to make legislation to establish the court within six months. If the court is not instituted within a year of enacting such legislation, then the UN Security Council can intervene to set up the court.
Related:
Generals should be investigated for war crimes (22 Jul.)
Riek Machar admits SPLM-IO never investigated Bentiu massacres (8 Jul.)
South Sudan govt human rights investigation 'ended,' report filed with president (7 Feb.)
UN says evidence on ethnic massacres in S. Sudan may be sufficient for prosecutions (11 Jan.)
Six months after Bor and Bentiu massacres, no arrests (16 Oct.)
Law experts say S Sudan government has "no will, no capacity" to invesitgate atrocities (15 Jul.)
'No amnesty': Rights group calls for prosecution of South Sudanese war criminals (10 Jun.)