ADDIS ABABA -
14 Feb 2018
IGAD mediators hold consultative meeting with govt team on contentious issues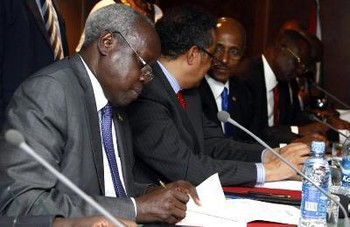 Mediators of the South Sudan peace talks in Addis Ababa held a consultative meeting with the government delegation today, a government official said.
An East African bloc, IGAD, has been facilitating the South Sudanese peace process in an attempt to bring about peace in the world's youngest nation.
South Sudan's Minister of Information Michael Makuei said that the IGAD mediation held a consultative process with their delegation on issues of concern and the way forward.
"The mediators and the facilitators will continue with the rest of the delegates and tomorrow we will continue with the same consultations," Makuei said.
The government official noted that the mediation will develop a draft proposal on Chapter 1 which covers articles on governance after the consultive meetings with the delegates at the ongoing peace talks.
"We will have to look into it and respond or react to that document. This meeting is a process, so people should not expect it to finish within a day and night," he said.
Makuei, who is also the government spokesman, expressed optimism that they will return to the country with a sign peace agreement.
He pointed out that today's agenda focused on consultations between the South Sudanese parties to agree on contentious issues in Chapter 1 of the 2015 peace agreement.
"On the other hand, the security committee continued working on Chapter 2 of the cessation of hostilities and transitional security arrangements. The committee is expected to finish its work tomorrow and present its report to the plenary," he said.