IGAD invites key representatives of South Sudan parties to Ethiopia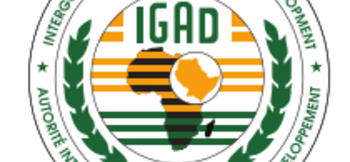 IGAD logo
The Inter-governmental Authority on Development on Sunday invited key representatives of each of the South Sudan parties to go to Ethiopia for consultations.
According a letter written by the IGAD Special Envoy to South Sudan and seen by Radio Tamazuj today, the IGAD Council of Ministers has decided to intensify its engagement with the parties with a view to identifying possible options for unlocking the stalemate during the next peace talks.
"In order for the process to be focused and meaningful, the engagements need to be limited to representatives of the parties," partly reads the letter addressed to the parties.
"I would therefore request you to nominate five representatives to come to Addis Ababa for the consultations from 10th May-12th 2018," adds the letter.
The regional bloc said the South Sudan parties' positions still remain quite far apart during the recent consultations, pointing out that there should be more engagement on the sticking issues.
"In order, therefore, to maximize the likelihood of reaching final agreement during the next round, which begins on 17 May 2018, the Council of Ministers and the Special Envoy consider that it is necessary to intensify the engagement with and between the parties," IGAD said.
The East African regional bloc IGAD has recently adjourned the South Sudan peace talks to 17-21 May.
Inter-Government Authority on Development (IGAD), is an 8-member economic bloc that brings together Ethiopia, Djibouti, Somalia, Sudan, Eritrea, South Sudan, Kenya and Uganda.