ADDIS ABABA -
12 Oct 2017
IGAD delegation expected to arrive in Juba this week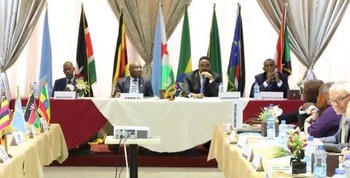 The IGAD Special Envoy for South Sudan, Ambassador Ismail Wais, has confirmed that the programme for pre-High Level Revitalization Forum consultation phase has been concluded in Khartoum, Sudan and the delegation will be in Juba by the end of this week.
Ibrahim Ghandour, Sudan's Foreign Affairs Minister and Ambassador Ismail Wais held constructive meetings with Dr Lam Akol, General Peter Gadet, General Bapiny Monytuil and Dr. Costello Garang in Khartoum over the past three days.
In a press statement on Thursday, Ambassador Ismail Wais said IGAD Council of Ministers' delegation will arrive in Juba at the end of this week for meetings and discussions with the coalition government.
"After the consultations with the Government, I will then lead discussions with various civil society representatives," he said.
"The purpose of this pre- Forum consultation phase is to seek a broad range of views on the conduct of the High Level Revitalisation Forum and pursuit of its three key objectives namely; cessation of hostilities and a permanent ceasefire, return to the full implementation of the Agreement, and developing a revised realistic timeline and implementation schedule towards a democratic election at the end of the transition period," he added.