IGAD concludes meetings with South Sudanese stakeholders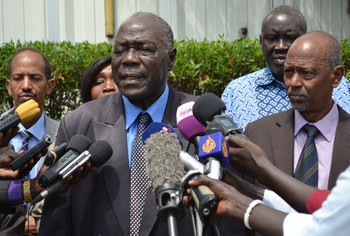 The East African Regional bloc IGAD has announced that it has concluded its meetings with all significant parties to the conflict in South Sudan.
"I can report to you now that these consultations have all been positive and constructive and I wish to thank each and every one of the participants for their commitment, engagement and thoughtful contributions," Ismail Wais, IGAD Special Envoy for South Sudan said in a press conference Juba on Tuesday.
He pointed out that over the next few weeks the IGAD Special Envoy's Taskforce will reflect on the outcomes of the consultation meetings, including consideration of the various written contributions provided to us, and develop options and recommendations for the revitalisation process.
"Once complete, the IGAD Council of Ministers will convene a meeting to consider the various recommendations and options, and will thereafter pronounce on the date, location, attendance and draft agenda for the High Level Revitalisation Forum. We anticipate that this revitalisation process will be underway within two months," he said.
According to the IGAD envoy, South Sudanese rebel leader Riek may not attend the revitalization
forum but he will be represented by his group.
Since 28 September, IGAD began a comprehensive round of consultation meetings in Addis Ababa, Khartoum, Pretoria and Juba, pursuant to a mandate to convene a High Level Revitalisation Forum for South Sudan.