IDPs in Lasu payam need humanitarian assistance: official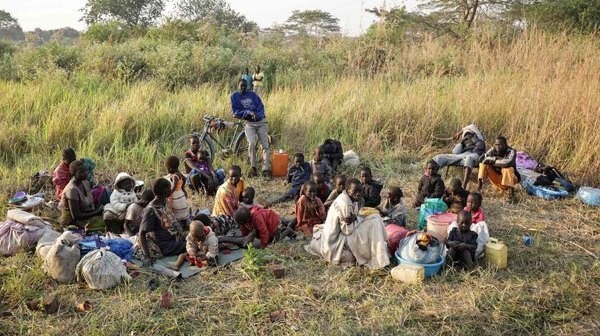 South Sudanese refugees fleeing from fighting in Lasu after crossing the border into the Democratic Republic of Congo, near Aba, on December 23, 2017. PHOTO | AFP
Hundreds of internally displaced persons (IDPs) in Lasu payam of Otogo County in Yei River State are in dire need for humanitarian assistance, a local official disclosed.
Speaking to Radio Tamazuj on Thursday, the acting chairperson for the State Relief and Rehabilitation Commission, Obed Taban said the displaced, mostly women, children and the elderly lack food and non-food items.
"In Lasu payam, there are 741 displaced individuals and in Nyori village, there are 3,216 individuals, totaling to 3,957. These people, displaced from their villages, are lacking sleeping mats, blankets, medicines and food," he explained.
The relief official appealed to humanitarian organizations operating in the state to intervene by providing emergency humanitarian assistance.
"I went to mobilize humanitarian agencies so that people are assisted, but there was no intervention. It is only MSF [Médecins Sans Frontières] that delivered some medicines to the people in Lasu," Taban said.
He added, "We have food of about 41 metric tons in the World Food Programme storage facilities, but they have failed to provide assistance. The government delivered little emergency food, which is not enough".
In December last year, government and rebel forces clashed in Lasu, forcing thousands of local residents to flee into the bush for safety.