Identity of suspect in Gogrial West murders revealed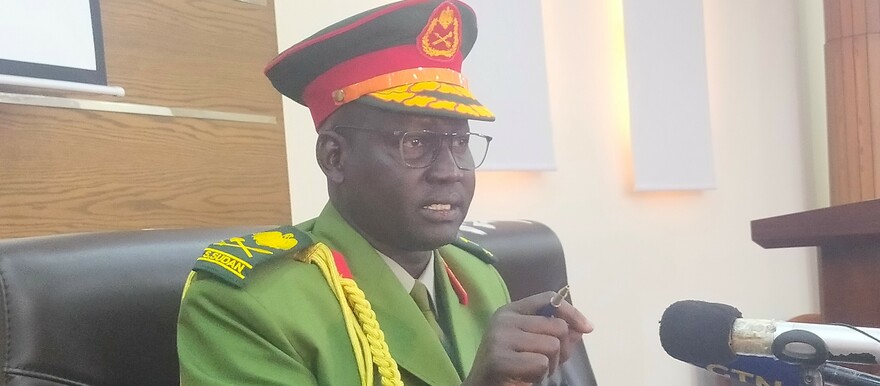 Maj. Gen. Lul Ruai Koang, spokesman of the South Sudan People's Defense Forces (SSPDF) speaking to reporters in Juba on Tuesday, 10 January 2023 (Radio Tamazuj)
A soldier has been arrested as the prime suspect in the killings of three foreigners and a local in South Sudan's Warrap State over the weekend, the military said.
On Sunday, three Syrians and a South Sudanese national were shot and killed by a gunman in the Akon area of Gogrial West County, Warrap State.
Speaking at a press conference in Juba on Tuesday, Maj. Gen. Lul Ruai Koang, the official spokesperson of the South Sudan People's Defense Forces (SSPDF), said the main suspect had been arrested.
 Lul identified the main suspect as Private Yak Garang Yak Yak from the army's Tiger Division. He, however, did not reveal the identities of the victims.
 "Our security forces went into action, and they were able to arrest the culprit. He was identified as Private Yak Garang Yak Yak. He is an SSPDF soldier from Tiger Division. He is the prime suspect in the killing of four individuals, three foreign nationals and one South Sudanese," he explained.
Lul noted that the soldier was being held at Wunyiik, the headquarters of the army's Third Infantry Division.
The army spokesperson said that the reasons behind the killings remain unclear, adding that investigations into the incident have been launched.
"As we speak, plans are underway for him to be transported to Juba, and on the same line, the Chief of Defense Forces, Gen. Santino Deng Wol, has already initiated paperwork aimed at the formation of an emergency court martial so that the suspect is tried and convicted here in accordance with our national laws as well as the SPLA act 2009," Lul said.
"The formation of the court martial is the primary responsibility of the Chief of Defense Forces, but it has to be approved by His Excellency Salva Kiir Mayardit in his capacity as the Commander in Chief of SSPDF," he added.