ICRC resumes operations in Darfur after 3 years of suspension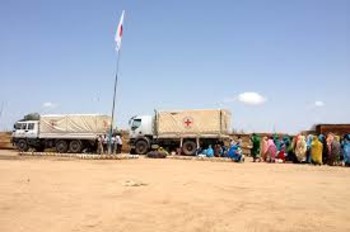 Photo: Sudan trucks arrive carrying food, seed and farming tools to be distributed to families in and around Jebel Marra (ICRC).
The International Committee of the Red Cross says it has resumed its operations in the troubled Darfur region after nearly three years.
Speaking to the press in Nyala town in South Darfur, the ICRC communication officer in South and East Darfur states, Atif Mustapha said the ICRC resumed its operations after revising previous agreements made with the Sudanese government since 1983.
Mustapha added that before the humanitarian organisation suspended its operations in the region provided water and health services to the local population. "ICRC was also involved in working towards food security including agriculture and livestock, he said.