"I will not spare coup plotters again'-Kiir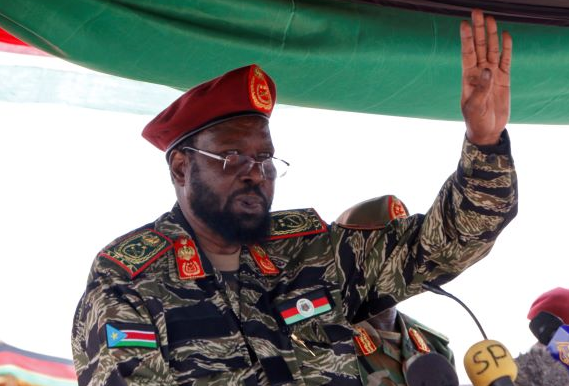 President Salva Kiir. (File photo)
South Sudanese President Salva Kiir Mayardit on Tuesday while giving a speech at the swearing-in ceremony of the SPLM party secretary general, Peter Lam Both, vowed not to spare coup plotters in the future.
He said the major issue debilitating the country is persistent political rivalries and that everyone wanted to be president.
"Our problem is that everyone wants to be number one, the top seat and there are people that have made it a point that they must be number one and the issue of number one is what caused us this war in 2013," Kiir said. "I do not regret it but if I had acted like soldiers do and slaughtered them all, there would not be another rebellion in South Sudan but I do not want people to die. However, had they succeeded in apprehending me, would they have spared me? No! They would have killed me."
The president warned that he will go after and not spare anyone who attempt to change his government by force of arms.
"So, I want to say it here to those who will think of attempting another coup; if they do not get me, I will definitely get them," Kiir promised. "When I spare people, they call me a coward. It is not like that because I thought that even if somebody is impatient and takes up arms against you but does not kill you, you need not revenge."
He said that although Dr. Riek Machar, Taban Deng Gai, and others fled in 2013, he ensured that their children were safe.
"In the first coup attempt in 2013, I did not arrest Riek Machar and his in-law Taban Deng Gai. They lit the fire and fled and left their children and when I got them, I called Gen. James Hoth (then Chief of General Staff) and told him to take the children to his home and look after them until the airport reopens," he narrated. "After the airport resumed operations, Gen. Hoth sent them to join their parents. I believe that if they were the ones who had got my son, they would have not left him."
President Kiir, who is also the SPLM party chairman, urged the party members to reconcile, be steadfast, and be united.
"Reconciliation is the most important thing and those who rebelled against me are now the members of my party," he said. "If they do not plan another coup, I will not do anything to them."