I welcome UN sanctions, says rebel-appointed governor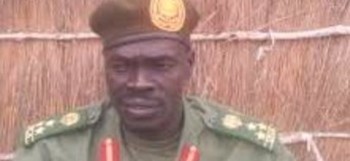 Photo: Koang Rambang
Koang Rambang, the rebel-appointed governor of Bieh state who was accused of obstructing peace in South Sudan said he welcomes international sanctions against him.
UN Security Council is due to vote on Thursday to impose sanctions on opposition governor Koang Rambang, Defense Minister Kuol Manyang, former army chief Paul Malong, Minister of Information Michael Makuei Lueth, deputy army chief for logistics Malek Reuben, and cabinet affairs minister, Martin Elia Lomuro.
The proposed measures would freeze the assets and ban travel for the six officials.
Speaking to Radio Tamazuj from Bieh State today, Gen. Rambang said: "I welcome the UN sanctions against me. I have no problem with the sanctions."
The opposition official commended the international community for considering punitive measures against peace spoilers in order to bring peace in South Sudan.
"It is good because the United Nations and the international community are now focusing on solving the problem of South Sudan, so if they think that sanctioning people who are obstructing peace in South Sudan will bring peace, is welcome," he said.
However, Rambang said he was acting on self-defense during fighting in Bieh State." Everybody knows that we have been in control of Bieh State … I know if we go to court, I will be acquitted because I am not guilty," he said.
The rebel general said he did not have financial assets. "I have been in the field for years since the conflict broke out in 2013," he said.
Koang Rambang has been accused by the world body of leading military attacks and obstructing aid to civilians in Bieh State.