"I am here because I want peace," Machar says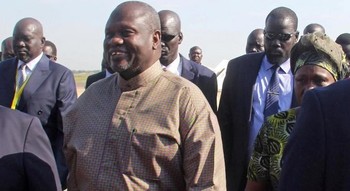 South Sudan opposition leader Riek Machar arriving at Juba airport in South Sudan, October 31, 2018. /REUTERS
While addressing the gathering at Juba Mausoleum during the peace celebrations in Juba on Wednesday, President Kiir's arch-rival opposition leader Dr. Riek Machar Teny said his presence in the country is a show of goodwill to uphold the peace agreement.
Machar fled Juba two years ago when fighting broke out between government troops and his forces forcing him into exile. This is his first time in Juba since he fled.
"Many people came since morning just to see whether these people will really come. We have come. We want to assure you that this peace is in our hearts. We want to implement this peace. We want to assure you that we have a political strategy to return our country to peace," Machar said.
He added, "There are people who think that I would not come because of what happened in 2016. I left in a very difficult situation. But the most important thing is that we have signed the peace agreement. And we have the agreement, we should hold on to it."
According to the revitalized peace agreement, the opposition including Machar was expected to be in Juba in 8 months' time to begin the transitional period.
"The agreement says that we will go to Juba after 8 months, but if there is a celebration like this, who will not come. We must come, why, because if we come after 8 months, some of you will say that these people don't want peace. We want peace as much as you do," the opposition leader said.
Machar also reiterated calls for the release of political detainees and lifting of the state of emergency, saying these are signs of peace.
"During the war, there were people who were arrested, some were not tried others were tried. We just want them to celebrate with us this peace. Release them. We want the state of emergency lifted so that people can move freely. This is when people will now that there is peace," he said.
He further urged Kiir to allow for political space different parties to freedom of expression and especially create an environment for political parties to freely conduct their activities. He said in the presence of freedom of
Machar also took the opportunity to tell the people of South Sudan that the agreement envisages a national army made of all nationalities in South Sudan as well as proper utilization of national revenue.
"We want to strengthen our governance system. Our governance system since has been federalism. This agreement will bring you a federal system," Machar said.
The opposition leader acknowledged the role played by regional leaders in bringing together the warring parties in the midst of suspicion and scepticism among the warring parties. He especially thanked Ethiopia's Prime Minister Abiy Ahmed Ali saying "he took a courageous decision of extracting me from their confinement to engage in face to face meetings with my brother President Salva Kiir Mayardit in order for us to end the impasse," he added.