UMM BEREMBITA -
7 May 2013
Hundreds flee renewed fighting between SAF & SRF in S. Kordofan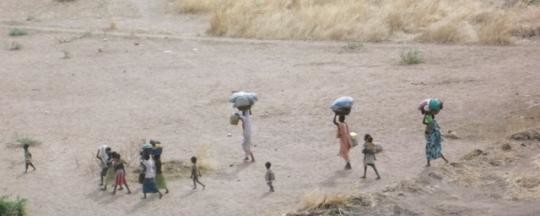 Hundreds of people fled Umm Berembita in Sudan's South Kordofan state on Sunday as fresh clashes broke out between the Sudan Revolutionary Front (SRF) and the Sudanese Armed Forces (SAF).
The civilians fled to Rashad and Rahad and other nearby areas as SAF claim to have regained full control of the region, according to a statement by SAF spokesman, Al-Swarmi Khaled.
"The Sudan Armed Forces would like to assure you, our loyal citizens, that your forces are keen to protect and purge all areas invaded by the remnants of the rebels during the past few days steadily and with confidence of achieving its goals. That is not far off from it now in order for the citizens to return to their villages which the aggressors oppressed and forced them to leave," claimed Khaled.
However the SRF, a coalition including the SPLM-N, the Sudan Liberation Movement (SLA), Abdel Wahid and Minawi factions, Justice and Equality movement (JEM) as well as youth and women's civil society organizations, dismissed SAF's claim to have regained control of Umm Berembita and Abu Karshola.
SRF's official spokesman, Abul-Qasim Imam, told Radio Tamazuj that the SRF have taken full control over these two areas before denying that SRF forces have carried out ethnic cleansing in these areas. The spokesman further called for an independent investigation to prove these allegations, if true.
"Let me tell you these people are lying and giving fabricated news. They are just dreaming. They have no ability to withstand with SRF forces. They are just trying reassure themselves and citizens only," alleged the spokesman.
South Kordofan state has suffered civil war since 2011 when fighting broke out between the rebel group SPLA-N and the Sudanese government. Since then, tens of thousands of people have become displaced, either within the state or as refugees in South Sudan.