Humanitarian tragedy looms in refugee camps bordering Sudan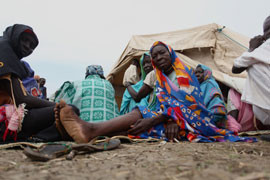 The humanitarian crisis is growing in the border areas of Southern Blue Nile in Sudan where the Sudanese Air Forces continues to bomb villages. Thousands of Sudanese refugees crossed the border and are heading for refugee camps in Ethiopia and the Unity State in South Sudan. Humanitarian organizations say that some refugees die upon arrival in the camps due to malnutrition and exhaustion.
The situation is dire since the camps are lacking even the most basic facilities such as water, food and shelter. Water supplies at the refugee camps will run dry in the coming week warned the aid agency Médecins Sans Frontières (MSF) Netherlands on Tuesday. Tens of thousands of people are fleeing the violence and are moving toward peaceful areas. According to aid workers over 8,000 people are trying to leave Sudan from Blue Nile state (Sudan) into Unity State (South Sudan) but are trapped inside Blue Nile state by armed forces. Their suffering is increasing due to continued Antonov bombardments by the Air Forces of Khartoum. In the past three weeks around 35.000 refugees have crossed the border into South Sudan, the aid organizations counted. Some of the refugees have been placed in the new camp of Yusuf Batil in Unity State. However, most camps have insufficient facilities to take care of the constant influx of refugees. The government in Khartoum continues to deny access to humanitarian aid workers to the region.
A refugee told independent Radio Tamazuj that "as a result of the air strikes all our property has been destroyed, we don't have anything. Now we live in refugee camps without food, shelter or clothes.". The rainy season is approaching and will aggravate the humanitarian situation. MSF warns that the most critical problem is the lack of water in the notoriously water-scarce region.