WEST KORDOFAN -
22 Feb 2018
Huge fire destroys more than 400 homes in West Kordofan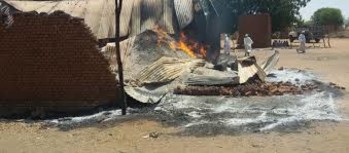 More than 400 homes were razed to the ground by a huge fire on Tuesday evening, leaving hundreds of families homeless at Sinut Locality of the Sudanese West Kordofan State.
Salah Mohammadi, a local leader of Al-Shiheta neighbourhood told Radio Tamazuj that the fire was caused by a heavy storm that hit the area destroying over 400 homes built using local materials.
He added that there are currently more than 63 families living in an open area after they lost all their belongings including harvested food like sorghum, ground nuts, and hibiscus among others. He said no human casualties were reported.
The local leader revealed that the area commissioner visited the area and instructed local leaders to assess the damages.
Mohammadi urged all the humanitarian organizations working in the area to quickly intervene and provide basic assistance to those affected.