How Arab forces carried out a rolling ethnic massacre in Sudan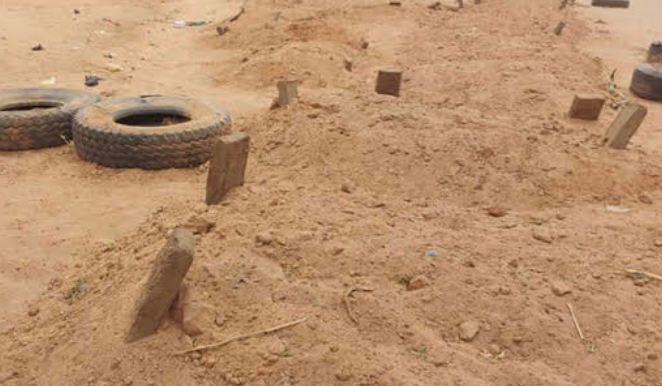 Mass graves at A Ghabat cemetery in El Geneina. Masalit residents buried hundreds of slain relatives and friends under cover of night amid a weeks-long assault by Arab forces. (Photo: Roots for Human Rights and Monitoring Violations)
As Sudan plunged into civil war, the ethnic-African Masalit tribe came under weeks of systematic attacks in West Darfur by the paramilitary RSF and allied militias, Reuters reports.
In the city of El Geneina, at least 1,000 bodies were buried in Al Ghabat cemetery – which filled with hastily dug mass graves.
They were determined to bury their dead – even if the snipers on the surrounding rooftops meant they were risking their lives to do so.
To give themselves cover, they buried the dead at night, putting multiple bodies in the same hastily dug graves. They worked quickly, forced to dispense with much of Islamic burial practice, as they placed fathers, mothers, sons, daughters, and neighbors in the ground. The bodies revealed the brutal way their lives had ended. Some were burned beyond recognition. Some were missing limbs. Others had gashes across the throat.
The flow of corpses was constant. On April 24, schoolteacher Abdel-Majed Abdullah says he helped carry 52 bodies wrapped in blankets – 27 men, 16 women, and nine children – and line them up in newly dug pits. On April 27, surgeon Kamal Adam says he accompanied the body of his slain father, shot dead inside his own home, and placed him in one of three large pits along with 107 other bodies. On April 29, 56 more were buried. On May 7, lawyer Khaled Ismail attended the burial of 85 people, including a colleague who he says was burned alive, after attackers locked the man in his home and set it alight.
The burials in Al Ghabat cemetery continued for more than seven weeks, from late April until mid-June, turning the rectangular plot into a sprawling mass grave for at least 1,000 residents of the Sudanese city of El Geneina in West Darfur. The carnage, according to dozens of eyewitness accounts, was the result of more than 50 days of attacks on the city's majority ethnic African tribe by Sudan's Rapid Support Forces (RSF), a paramilitary force drawn largely from Arab groups, and allied Arab militias known as Janjaweed.
The killing frenzy reached a climax over several days in mid-June, as El Geneina was turned into "swamps of blood," according to one survivor. Another described the bloodletting as "the end of days."
Bodies of people killed in the violence lie outside a library near the main road in El Geneina.
The peril was so unrelenting that many survivors told Reuters they were unable to give their dead the prompt burial called for by Muslim and local custom. Fatma Idriss says Arab militiamen shot dead her husband and three other men in her home, then prepared to incinerate the corpses.
"Don't set them on fire," she begged. Idriss says she managed to drag her husband away and cover him with a blanket before escaping and later finding refuge across the border in Chad. She promised herself she would return to bury him.
The tenacious resolve of survivors to bury El Geneina's dead with honor is one of the signature features of the conflict that tore apart the city. Reuters interviewed more than 120 people who fled El Geneina to Chad, where Idriss and hundreds of thousands of other refugees are now living in camps. Survivors, many in tears as they spoke, described children being shot, women and girls raped, people picked off by snipers in the streets, and others slaughtered inside mosques where they had sought shelter.
Burying the dead en masse
Reuters used satellite imagery to trace how Al Ghabat cemetery expanded rapidly as the Masalit community buried its dead.
Through their accounts, supported by an analysis of satellite imagery, photographs, social media footage and lists of the dead compiled by local rights activists, Reuters has assembled the first comprehensive chronicle of the violence that consumed El Geneina earlier this year.
It was a rolling ethnic killing campaign that lasted for weeks. The target: the city's darker-skinned Masalit tribe, for whom West Darfur is their historical homeland. The Arab attackers, multiple survivors said, often referred to the Masalit as "anbai," meaning slave.
The killings, dozens of witnesses recounted, included executions of El Geneina residents who were identified as Masalit, sometimes after being interrogated by RSF and Arab militia fighters. The militiamen, survivors said, were particularly focused on killing Masalit men and boys, seen as potential fighters. Desperate to save their sons, mothers described dressing them in girl's clothing, hiding them under beds or beneath their flowing robes, or shoving them out of windows so they could escape before RSF and Janjaweed fighters arrived.
The survivors' accounts reveal a campaign that was systematic and coordinated. Mortar fire was directed at specific areas of El Geneina where the Masalit lived. Roadblocks were set up on main arteries to control movement in the city. Arab militiamen specifically hunted for prominent figures in the Masalit community. When the campaign was over, RSF and Arab militiamen oversaw an effort to hide the atrocities, which included burying bodies on the city's outskirts, more than 15 witnesses told Reuters.
What happened in El Geneina, the capital of West Darfur, was part of a two-decade campaign of "ethnic cleansing, occupying land and demographic change" by the RSF and Arab militias, alleges Hobeldin Hassen, a Masalit rights activist from El Geneina who fled to Chad. Their members, he said, "are mobilized and indoctrinated to annihilate the original inhabitants of Darfur."
The RSF didn't respond to questions from Reuters for this report. Arab tribal leaders couldn't be reached.
In public comments, Arab tribal leaders have denied engaging in ethnic cleansing in El Geneina, and the RSF has said it wasn't involved in what it described as a tribal conflict. In a news conference posted on an El Geneina community social media page on Aug. 21, Arab tribal leaders in West Darfur blamed the Masalit for instigating the fighting. The Arab leaders said the Sudanese military had colluded with the Masalit, supplying them with weapons to attack the Arab community. The RSF played no role in the fighting, they said.
"You started the war; you rolled up your sleeves for war," said Emir Massar Aseel, the leader of the Rizeigat tribe, from which many RSF commanders hail. "Take responsibility for the results of the war."
The Sudanese army didn't respond to questions for this report, including why soldiers stationed in El Geneina didn't intervene to protect civilians under attack.
Reuters was unable to independently corroborate some of the survivors' accounts. But witnesses were consistent in the violence they described and in the details and sequence of specific events in El Geneina. In many cases, multiple survivors described the same event.
In some cases, satellite imagery bore out what was happening on the ground, including images that reveal widespread destruction across large swathes of the city. A Reuters analysis found at least 1.8 square kilometers of destruction emerged in El Geneina from April 19 through June 29. That's equal to about 250 soccer pitches.
Reports issued by human rights organizations have outlined similar patterns of violence. Karim Khan, the International Criminal Court (ICC) prosecutor, told the U.N. Security Council in July that his office had begun investigating alleged atrocities in West Darfur, including extrajudicial killings, arson, and looting. Earlier this month, the United States imposed sanctions on two senior RSF figures, including Abdelrahim Hamdan Dagalo, the paramilitary's deputy leader. Dagalo described the U.S. decision as "unfair" and based on information "from one side."
Hassan Zakariya, who ran one of two field hospitals that operated in El Geneina during the violence, shared a list of names of more than 880 people he said had been killed between April 24 and June 9. The full toll, he estimated, was more than 4,000 dead and at least 10,000 injured. More than 290,000 people have fled the city for Chad, according to an estimate by the United Nations refugee agency (UNHCR). Before the violence, El Geneina had about half a million people as of 2022, according to the U.N. children's agency (UNICEF).
Violence erupted in Darfur days after war broke out between the Sudanese army and the RSF in Khartoum, some 1,400 kilometers to the east. The fighting in the Sudanese capital started on April 15, sparked by tensions between the army and the RSF over a plan to integrate their forces as part of a transition to civilian rule. The army, along with the RSF, had taken over in a coup in 2021, two years after toppling long-time dictator Omar al-Bashir.
Khartoum has been devastated by air strikes and artillery as the army has battled RSF fighters, who have taken up positions in homes, hospitals and schools. RSF fighters have been accused by human rights groups of looting and widespread rape in the capital. Hundreds of civilians have been killed.
In West Darfur, home to 1.8 million people, the violence was not confined to El Geneina. Reuters spoke to 30 people in towns across West Darfur, one of five states in the Darfur region. They described bloody ethnic targeting and being expelled from their land by the RSF and its allied militias. Many said their homes were burned to the ground. Satellite images of West Darfur show areas with burn scars where residents reported attacks. The U.N. refugee agency said tens of thousands of people from these areas have fled to Chad.
Satellite pictures also reveal how the northern part of Al Ghabat cemetery expanded markedly in the weeks after violence erupted in El Geneina. The mottled earth, clearly visible in the pictures, is consistent with on-the-ground photographs obtained by Reuters from a local lawyer who said he participated in the burials. The photographs show multiple mounds of brown sand in the cemetery – each one a mass grave where city residents said they buried the dead.
"The cemetery is packed full of bodies," Sultan Saad Bahreldin, the traditional leader of the Masalit, told Reuters. "The deaths never stopped."
Besides Al Ghabat, more than 20 people spoke of six other cemeteries in El Geneina where they buried their dead in mass graves. Satellite images reviewed by Reuters showed that multiple new graves appeared during the violence in at least three of the cemeteries. On Sept. 13, the head of the U.N.'s Sudan mission said the organization had received credible reports of at least 13 mass graves in the city and surrounding areas.
The Bloody Legacy of Darfur
"It's a show of extreme shame and humiliation if people are forced to leave the dead unburied."Hobeldin Hassen, El Geneina activist
Orphaned and raped
"I am broken from deep inside because I can't speak to society about what happened. My future is lost."Survivor of sexual assault
The sultan's brother
"The entire family could see his body from a distance and couldn't do anything."Fatma Bahreldin, daughter of a slain Masalit leader
The head of the RSF, Hemedti, is a former camel trader. His power base is in the Darfur region, where he was involved in the conflict that erupted in 2003. He joined the government's campaign at the time to quell the rebellion in Darfur as part of the Janjaweed.
Under Hemedti, the militia was ultimately transformed into the RSF paramilitary, which was recognized by law as an independent security force in 2017. The force was estimated to number around 100,000 before the war started.
Hemedti's role in helping crush the 2003 rebellion won him influence and ultimately served as a springboard for his political ambitions. In 2019, after he helped topple his one-time benefactor Bashir, he became deputy head of state. That made him Sudan's second-most powerful person, behind his then-ally, military chief General Abdel Fattah al-Burhan. After vying for dominance, Hemedti and al-Burhan are now at war.
In June last year, Hemedti visited El Geneina. He released a white pigeon – a symbol of peace – at an event where he announced he was in the city to help mediate between the various tribes. Masalit activists issued statements at the time accusing Hemedti of trying to conceal atrocities committed by his forces and of buying the loyalty of Arab tribal leaders and militias with cash and cars.
Hemedti didn't respond to questions sent to the RSF by Reuters.
On June 20 this year, several days after the violence ended, Hemedti accused the Sudanese army of fueling the conflict by arming tribes. In comments posted on an RSF social media page, he said he had proof that the military had a "sinister plan to inflame tribal war in Darfur, starting in El Geneina." Hemedti didn't provide any evidence.
He said he had ordered his forces to stay out of the conflict in El Geneina. "We pay tribute to all the innocent civilians who fell victim to the tribal conflict," he said.
More than two dozen people interviewed by Reuters, including Masalit tribal leaders, fighters and lawyers who fled El Geneina, said they saw RSF commanders and Arab tribal leaders overseeing the assault on the city. This included directing mortar and RPG fire at IDP camps and government offices in El Geneina, they said.
Sporadic battles raged throughout May, as Masalit fighters, armed with Kalashnikov rifles, tried to keep the better-armed RSF and Arab militias at bay. Thousands who fled from IDP camps under attack took refuge in the El Geneina district of Al Madaris, near the office of the governor of West Darfur, himself a Masalit.
Six Masalit fighters told Reuters that some 2,000 armed Masalit men deployed to the area and set up sandbag barricades to protect the people sheltering there. Among them were members of the Sudanese Alliance, an umbrella group of armed factions that have fought in Darfur's past wars. Operating under the command of the governor of West Darfur, it was outgunned by the RSF, six fighters said, and many of its fighters would later flee to Chad.
The RSF began setting up checkpoints on the main streets of El Geneina, blocking people from leaving. "They imposed a siege on the city, so getting in or out was like committing suicide," said Noah Alfadeil, 30, a resident who made it to Chad. "If the men tried to get out, they would be gunned down."
By early June, the Masalit fighters were being overwhelmed by the superior firepower of the RSF and its allied militias. The city's Al Majlis district was devastated. Homes were torched. Many of the inhabitants fled or were killed.
One of the holdouts was Tarek Bahreldin, an older brother of the sultan of the Masalit. The sultan, whose powers include mediating disputes among his people, had fled the family home several weeks earlier after it was attacked by militiamen. He was hiding with friends in the city, and would later escape to Chad.
Tarek Bahreldin, brother of the sultan of the Masalit, was slain. His body lay in the street for two weeks.
On June 8, some 50 RSF and Janjaweed militiamen entered the green complex that housed the sultan, his siblings and their families.
Fatma, a daughter of Bahreldin, described what happened that day.
The militiamen weren't aware who the family was, she believes. They demanded to know if the family were "Arab or Masalit," she said in an interview in Adre. "I told him, 'We are Arabs.' If we'd said we are Masalit, they wouldn't leave any of us alive."
Bahreldin held his favorite prayer beads and waved them at the men occupying his home. "This is my only weapon. God's verses," she recalls him saying.
The damage to the family compound of the sultan is seen in this video.
The family decided to leave home and move to a safer area in northern El Geneina. But Bahreldin wouldn't go. They ate what would be their last meal together. Then, at 4 a.m. on June 9, the family left. Bahreldin's wife, Mariam Ismail, promised they would come back for him. But snipers in the surrounding streets made that impossible, Fatma and other family members said.
Three days after they left, the family got word that Bahreldin was dead. Mariam said he'd gone to a mosque across the road to eat. An Arab cleric who knew him offered shelter in the mosque and tried to convince him to stay. But Bahreldin told the cleric that if he was going to die, he wanted to die in his own home, Mariam says the cleric later told her.
Bahreldin was shot dead as he left the mosque, Fatma said. For the next two weeks, his body lay in the street outside his home as RSF and Arab militia forces prevented the family from burying him. Snipers lined the rooftops, ready to shoot should they try to retrieve him.
"The entire family could see his body from a distance and couldn't do anything," said Fatma, tears rolling down her face.
Only once the fighting ended did the RSF allow Bahreldin's body to be moved. The family said they asked the Red Crescent for help burying him.
Bahreldin was finally laid to rest in Al Ghabat cemetery. When Red Crescent workers brought his body to the cemetery, the family said, the RSF forced them to bury him in a mass grave with others.
Asked about the role played by the Red Crescent, Aida Alsayed Abdalla, secretary general of the Sudanese Red Crescent Society, told Reuters her organization doesn't "talk about individual cases to respect the confidential process around dead-body management."