Houses burnt to ashes in tribal fight in Marial Bai County, Wau State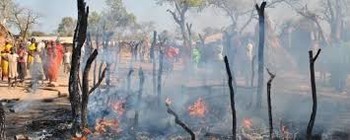 Gunmen from neighbouring Gogrial State attacked a village in Marial Bai County of Wau State over the weekend and burnt down houses, a local official said.
No casualties have been reported in the incident.
Maria Bai Commissioner Mel Aleu Guc told Radio Tamazuj on Monday that the armed men from Apuk community attacked Lieth Village in Marial Bai County and burnt houses to ashes.
Goc called on the governors of Wau, Tonj and Gogrial states to adhere to the border agreement signed last month to ensure peace is realised.
An inter-communal fight has been going on between Apuk and Aguok in Gogrial state over the past two months over land dispute.