'Hope is the word I leave with you' - Pope Francis said as he departed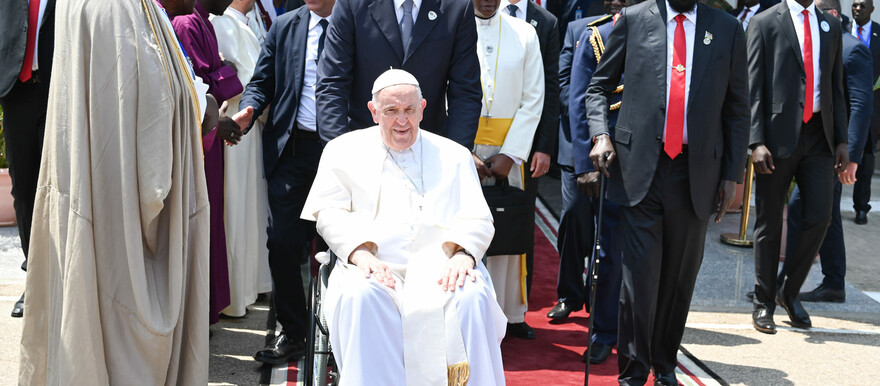 Pope Francis on Sunday urged South Sudanese to remain hopeful assuring them of his prayers and efforts to bring lasting peace to the conflict-ridden nation. 
He made the call during the Holy Mass held at Dr. John Garang Mausoleum to end a three-day peace pilgrimage to South Sudan. 
"Hope is the word I would leave with each of you, as a gift to share, a seed to bear fruit. As Saint Josephine reminds us, women, especially here, are a sign of hope, and in a special way I thank and bless all the women of the country," Pope said.
"To hope, I would associate another word, the word that has echoed in these days and – this I desire with all my heart – in days yet to come: peace," he added.
The head of the Catholic Church said they will continue to accompany and pray for South Sudan to achieve lasting peace.
"I came here with my brothers Justin and Iain, whom I sincerely thank. We will continue to accompany your steps and do all we can to make them steps of peace, steps to peace," he said.
The 86-year-old pontiff entrusted the path of reconciliation and peace to the women of South Sudan.
He expressed his gratitude for the warm welcome accorded to him, Archbishop of Canterbury, Dr. Justin Welby, and the Moderator of the General Assembly of the Presbyterian Church of Scotland Rev. Dr. Iain Greenshields.
"I am grateful to all of you, brothers and sisters, who have come here in great numbers from various places, spending many hours, if not days, on the road. I thank you for the affection you have shown me, but also for your faith and your patience for the good you do and the hardships that you willingly offer to God without growing discouraged but continuing to move forward."
Archbishop of Juba, South Sudan, Stephen Ameyu Martin hailed Pope for his visit.  
"I hope your visit is a sign of solidarity with us and shows the desire to restore tranquility in this country. Your Holiness, you have come to our country to urge our political leaders to work for peace and the common good of Sudan and South Sudan," said Ameyu.
The Holy Mass was attended by more than 150,000 people.
Pope leaves South Sudan
After the Holy Mass, the Holy Father left South Sudan for Rome after a three-day trip to the African youngest nation.
The plane carrying the head of Catholic, Archbishop of Canterbury Justin Welby, and Church of Scotland Moderator Iain Greenshields took off at 11:56 AM at Juba International Airport on Sunday.