Higher education minister says he resolved students' complaint in Morocco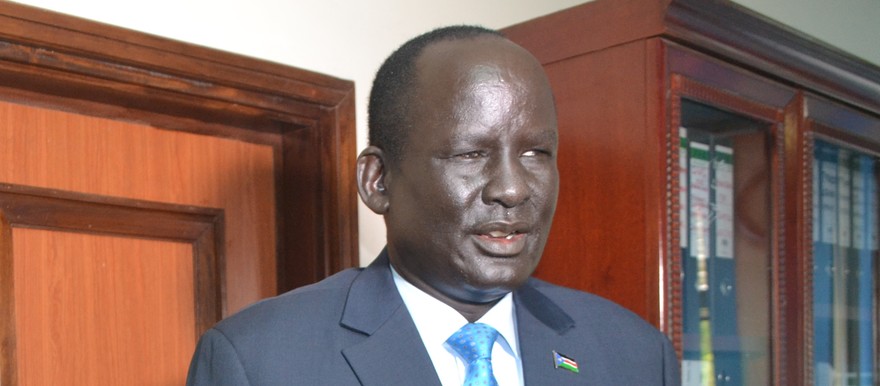 South Sudan's higher education minister, Yien Oral speaks to reporters in Juba on 23 July, 2019 (Radio Tamazuj)
South Sudan's Minister of Higher Education said he had resolved complaints raised by dozens of students on government scholarships in the Kingdom of Morocco.
In January, nearly 150 South Sudanese students travelled to Morocco to start their university studies. However, they started complaining that the Moroccan government instead registered them for vocational courses.
The students on scholarships said the move came as a surprise because they had applied for undergraduate courses.
"We have finally resolved the issue of our students in Morocco. We have already agreed that the 150 students will be admitted to the universities," Minister Yien Oral said.
The minister made the announcement after meeting the Ambassador of Morocco to Sudan and South Sudan in Juba on Tuesday.
The government official noted that he will travel to Rabat to discuss issues relating to admission of South Sudanese students to higher learning institutions for the next academic year.
"I will visit Morocco so that we agree with my counterpart on the number of scholarships that will be offered to South Sudan and how many students will join universities and polytechnic colleges," he said.
"I am pleased to meet the ambassador in Juba. The main issue we discussed was the situation of our students in Morocco," he added.
On his part, the Moroccan Ambassador to Sudan and South Sudan, Mohamed Maa Al-Ainain confirmed that the students' complaints had been settled.
The Moroccan diplomat promised that they will receive more South Sudanese students in Morocco next year.
In 2017, Morocco and South Sudan signed several cooperation agreements, including one on the construction of the youngest nation's new proposed capital, Ramciel.