Heavy deployment of troops in Juba ahead of judges' strike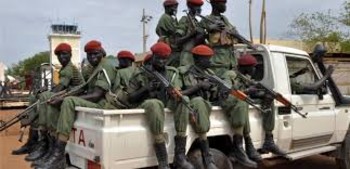 Photo: South Sudan soldiers in Juba. [Credit: Jok Solomon]
Heavy military and police forces have been deployed in the South Sudanese capital, Juba today morning ahead of the open-ended strike by judges on Monday morning.
Residents of Juba city told Radio Tamazuj that they saw police and SPLA forces patrolling the capital and manning the major points since morning without any clear reasons.
Some citizens attributed the matter to economic crisis across the country following the latest rise in the exchange rate of the US dollar against the local currency, causing sharp rise in the price of consumer goods at the market.
But others said the deployment of troops could be a move to pre-empt any possible anti-government protests over unpaid salaries across the country.
For his part, the spokesman of South Sudan police, Daniel Justin Boula, confirmed the deployment of troops in Juba, especially police personnel since morning hours.
Justin further said the intense security measures were taken after directives issued to tighten the security situation in Juba.
He claimed that they usually secure the city at night but because of the weakened they decided to deploy the government forces today morning. Daniel stressed that the military deployment was to protect citizens and markets and not for other reasons.
Separately, a senior judge who preferred anonymity said they will start their open-ended strike on Monday morning.
The judges demand better working conditions, an increase in salaries and the reinstatement of leave benefits. They also called for the resignation of Chief Justice Chan Reec Madut for failing to meet their demands.