Haysom pledges electoral support for South Sudan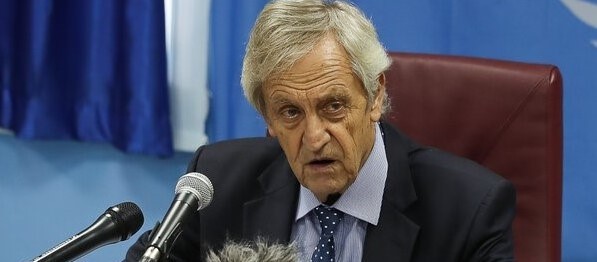 UNMISS head Nicholas Haysom holds his first press conference at the mission's headquarters in Juba on Thursday, June 3, 2021. Photo by Isaac Alebe Avoro/UNMISS.
The top UN envoy in South Sudan, Nicholas Haysom, on Thursday pledged support for the drafting of a permanent constitution which is expected to pave the way for elections in the country.
Last week, a two-day workshop, sponsored by regional and international partners, was launched in the capital Juba to discuss the permanent constitution-making process. It is part of the September 2018 peace agreement.
The world's youngest country has been governed by transitional constitutions during the years of civil war that followed independence from Sudan in July 2011.
"When renewing our mandate, the Security Council recognized the imperative of peacebuilding and directed UNMISS to advance a three-year strategic vision to prevent a return to civil war; build durable peace at the local and national levels; and to support inclusive and accountable governance and free, fair, and peaceful elections," stated Mr. Haysom.
The top UN official emphasized the need to prevent subnational violence that is still flaring up in particular places across South Sudan.
"Without peace, meaningful infrastructure development cannot take place. Without peace, displaced families cannot return home. Without real and lasting peace, progress in almost every aspect of South Sudan's social, economic, and political life is impossible. Real peace will give South Sudan's citizens the ability to determine their own future," said Haysom.
Haysom described the need for a permanent constitution in the world's youngest nation, calling it "a quintessential act of sovereignty," which would allow for solutions to divisive identity politics and conflict to come from the people themselves.
According to Mr. Haysom, while the primary responsibility of protecting all citizens lies with the South Sudanese government, the UN peacekeeping mission and humanitarian partners are doing everything within their power to prevent intercommunal fighting and build durable peace from the ground up for all communities.
"We are rebalancing our military peacekeepers to take a nimble, robust, and proactive approach to the protection of civilians. We are deploying troops to conflict hotspots, setting up temporary bases, and intensifying patrols to deter conflict," said Haysom.
"We are also doing everything we can to protect humanitarian workers and supplies, and to secure access to humanitarian services, including rebuilding 3,500 kilometres of roads. This work is vital to improving trade, access to basic services, and to enable communities to connect," he added.
The UN envoy concluded his briefing at the UN Mission (UNMISS) headquarters in Juba by calling on politicians, civil society and community leaders to galvanize momentum for the peace process as South Sudan approaches its 10th anniversary of independence next month.