HAC promises new polio vaccination date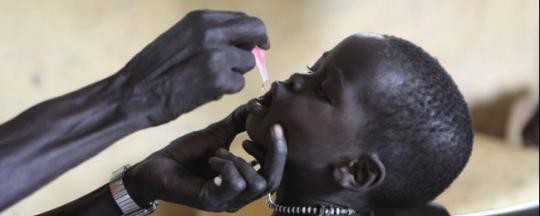 A polio vaccination campaign will start on 1 December in South Kordofan and Blue Nile states, Sudan's Humanitarian Aid Commission (HAC) announced.
The Sudan government announced officially a Cessation of Hostilities declared by the HAC to cover the period 1 to 14 November. Instead, it launched its biggest ground and aerial offensive on southern Kordofan between 2 and 13 November.
On 14 November, Sudan's chief negotiator Ibrahim Gandour told the media that the Sudanese Government was ready for discussions with the SPLM-N over the polio vaccination campaign.
The HAC Commissioner expressed hopes this week that the Sudan People's Liberation Movement-North (SPLM-N) and the Sudanese government resolve their differences regarding the logistics of the implementation of the campaign.
He said the vaccination campaign will be implemented by UN agencies and that the Government of Sudan will not be directly participating in its implementation, the Office for Coordination of Humanitarian Affairs (OCHA) reported in its latest news bulletin.
On 11 November, John Ging, the director of humanitarian operations of OCHA, told the UN Security Council that efforts to vaccinate 165,000 children against polio in areas of South Kordofan and Blue Nile states controlled by the Sudan People's Liberation Movement – North (SPLM-N) had failed.
In a news conference following his briefing to the Security Council, Mr.Ging said that the Sudanese Government and the SPLM-N had agreed on all technical arrangements for the vaccination campaign to take place between 5 and 12 November.
However, before agreeing to allow the vaccination campaign to start, the SPLM-N insisted on holding a meeting with the Government of Sudan. This meeting did not materialize.
Related: Sudan started fierce attack in Nuba Mountains instead of polio campaign (15 November 2013)