Group of SPLM-N leaders in Blue Nile calls for extra-ordinary general convention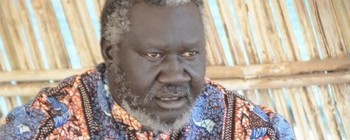 Photo: Malik Agar, chairman of the SPLM-N (Tomo Kriznar)
A group of leading members of the SPLM-N rebel group from Blue Nile has supported the Liberation Council of the Nuba Mountains region and called for the movement's highest forum, the General Convention to be convened within two months.
The group also called for suspension of SPLM-N secretariat and all party structures in Blue Nile until the General Convention is held.
According to the statement seen by Radio Tamazuj, the group stressed that the convention must take place so that the movement can resolve its internal differences.
Speaking to Radio Tamazuj on Friday, Abdul-Munaim Al Haj Abdullah, a member of SPLM-N Liberation Council in Blue Nile, said about 13 members of SPLM Liberation Council in Blue Nile and representatives of youth and women supported the decision.
He added that the statement was issued to support the decision taken by the Nuba Mountains Liberation Council.