Greater Pibor chief administrator vows to restore peace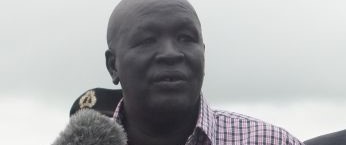 GPAA Chief Administrator Joshua Konyi [Gurtong | File]
The newly appointed chief administrator for Greater Pibor Administrative Area (GPAA), Joshua Konyi has vowed to restore peace among communities in the Greater Jonglei region.
Speaking to Radio Tamazuj on Wednesday, Konyi said he will work with Jonglei authorities to end the ongoing fighting in the area.
"As we speak, clashes between Murle youth and their counterparts from Jonglei are ongoing in parts of the Greater Pibor area. So, my priority is peace. My hope now is that a governor for Jonglei state is immediately appointed so that I partner with him," said Konyi.
He added, "Now, the challenge is that Dinka Bor and Nuer youth are occupying some areas in Murle land. With the investigation committee, I think those youth will be convinced to withdraw and pave the way for reconciliation."
The official pointed out that he would engage Jonglei community leaders to address their grievances and cement peace.
"This time we are serious. As we return the abducted children, Jonglei State [leaders] must also reciprocate. We will involve courts for those inciting our youth," he said.
Konyi urged the presidency to appoint a governor for Jonglei state, saying it will help create a conducive environment for engaging and reconciling the rival communities in the area.
The Greater Jonglei region is plagued by recurring intercommunal tensions involving the Dinka, Nuer and Murle communities. The cycle of violence is often accompanied by cattle raids, child abductions, and other revenge-inducing crimes.
Last month, President Salva Kiir issued an order forming a committee with a mandate to resolve the ongoing intercommunal conflict in Jonglei state and Pibor Administrative Area.