Govt wants IGAD to share military details of rebel groups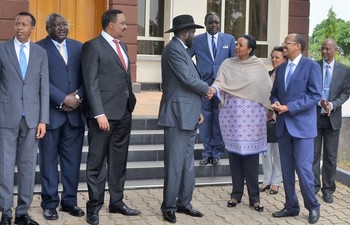 South Sudan government has asked the IGAD council of ministers during their recent meeting in Juba to share the list of estranged groups that have been mapped with details of their military and political activities on the ground in the country, according to a leaked IGAD report.
The report obtained by RadioTamazuj said members of the coalition government of South Sudan had presented a written position to the IGAD council of ministers in which they wanted the regional body to clearly explain the criteria for determining the estranged groups in South Sudan.
The cabinet ministers, according to the report, proposed two-track discussions where Chapter Two on security arrangements shall be discussed by the military wings of the estranged groups while the rest of the chapters are discussed by political wings.
The government also wanted the East African regional bloc IGAD to clearly define the meaning, objectives, agenda and extent of the revitalization process.
Also, Kiir's administration had asked the IGAD council of ministers to provide update on the outcomes of consultations already undertaken with estranged groups.
The South Sudanese government called on armed groups to denounce violence and commit to permanent ceasefire before the revitalization forum, according to the report.
The report also revealed that the government said the status of implementation of the signed peace agreement should form the basis for the revitalization forum, besides an outlook of the security sector post revitalization period characterized by'one army', separation of military from politics.