Govt troops accused of committing atrocities in Amadi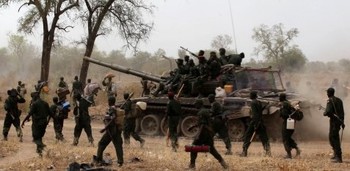 File photo South Sudanese soldiers walk alongside a tank as they withdraw from the town of Jau, at the disputed border with Sudan March 17, 2013/ Reuters.
South Sudan's armed opposition faction loyal to the former Firs Vice-President Riek Machar has accused government troops of killing civilians after an attack on the area of Bari in Amadi state on Saturday.
Paul Lam Gabriel, deputy spokesman for the SPLA-IO group, told Radio Tamazuj on Monday that the government forces had killed two civilians in the area of Bari. He pointed out that the attack forced a large number of people to leave their homes.
The rebel spokesman has acknowledged losing control of Bari area after the government attack on Saturday.
For his part, Lul Ruai Koang, military spokesman for the SPLA army, denied Lam's statement. Instead, he accused the SPLA-IO forces of attacking their positions in the area of Bari.
Lul called on the Ceasefire and Transitional Security Arrangements Monitoring Mechanism (CTSAMM), a body tasked with the monitoring of the implementation of the permanent ceasefire in the country, to investigate attacks by opposition troops in the area of Bari.