Govt integrates ex-rebel fighters into regular forces in Yambio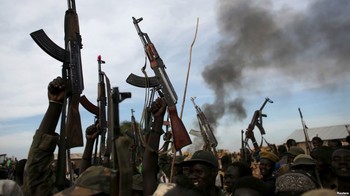 FILE - Rebel fighters hold up their rifles as they walk in front of a bushfire in a rebel-controlled territory in Upper Nile state, South Sudan Feb. 13, 2014.
Integration of former rebel fighters into South Sudan's regular military forces in the area of Yambio has been completed, a local official said.
Gibson Bullen Wandi, information minister in Gbudue state, told Radio Tamazuj on Tuesday that 1,850 former members of the Arrow Boys and the Sudan People's Liberation Army – In Opposition who surrendered to the government in 2016, have been integrated into the regular forces.
Bullen further said the former opposition fighters were trained for one year in the town of Yambio and that the integration process came after President Kiir's directives last year.
The state minister pointed out that a delegation from Juba is expected to visit Gbudue state next week to witness the deployment of the integrated forces into their respective units.