Govt and NAS rebels trade accusations over killing of 19 civilians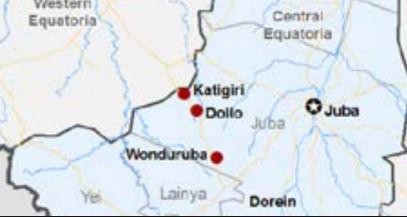 South Sudan's army said NAS rebels killed 19 civilians and wounded eight others in a small village located between Goroum and Wonduruba in Jubek State on Wednesday. According to the NAS rebel group the massacre of 19 people was carried out by government troops.
Neither version has been independently confirmed.
Army spokesman Lul Ruai Koang told Radio Tamazuj that they had brought the wounded civilians to the capital Juba for treatment. "The attack on the innocent civilians was carried out by NAS forces loyal to Thomas Cirillo," he said.
He pointed out that three government soldiers were also killed during the mission to rescue the villagers after the attack. Lul condemned the incident and called on the international community to put pressure on General Thomas Cirrillo to accept peace.
For its part, the NAS faction instead said what is reported by the government is "totally false".
Suba Samuel, a spokesman of the NAS rebel group, claimed that the attack was carried out by the government forces. He said government soldiers directed their guns against civilians at a gold mine in the area of Goroum after their defeat by NAS fighters.
"It was during the process of searching for their lost men, the government reconnaissance unit managed to locate the NAS advanced protection unit and clashed with it," said Suba said in a statement.
He added that NAS forces managed to defeat the government forces and destroyed their position in the area of Goroum.
The rebel group condemned the attack on innocent civilians.