Governors' forum to discuss implementation of peace roadmap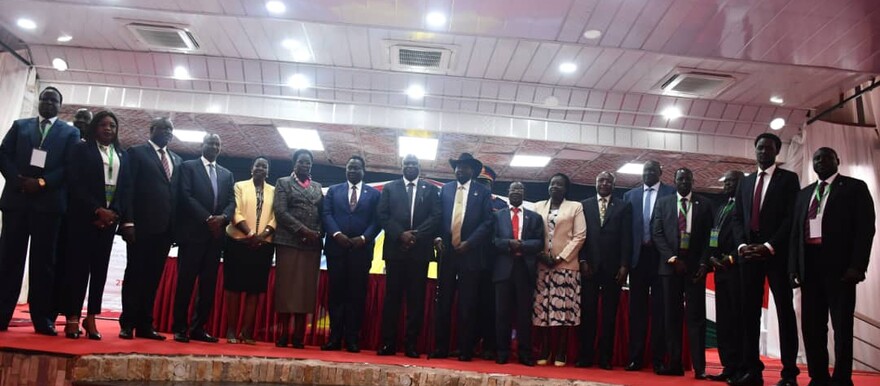 President Salva Kiir poses with governors at the 6th Governors' Forum at Freedom Hall in Juba on 22 November 2022. [Photo: Radio Tamazuj]
The 6th Governors' Forum currently taking place in Juba, South Sudan is expected to discuss means to fast-track the implementation of the roadmap agreement by parties to the 2018 peace agreement.
On 11 August 2022, peace parties signed the roadmap which specifies new deadlines and benchmarks and consequently extends the current transitional period by 24 months.
According to the agreement, the extension starts in February 2023 and ends in February 2025, with the general elections slated for December 2024.
During the opening of the event on Tuesday at the Freedom Hall in Juba, President Salva Kiir urged the governors to deliberate on a peace path for the country. 
"The discussions you will be holding in the next few days will certainly touch on the difficult topic of how to fast-track the implementation of the roadmap 2022. My hope is that your deliberations will be beneficial to the process of putting our country permanently on the path of peace," President Salva Kiir said.
At the same event, First Vice President Dr. Riek Machar expressed his confidence in the progress made in the peace implementation.
"This year we are holding this forum when we have done great events and milestones in the implementation of the peace agreement; key ones we have graduated the forces in phase one. We are confident the country will be secured once these forces are deployed," he said. 
The UNMISS chief in South Sudan, Nicholas Haysom, said the 6th Governors' Forum will boost the implementation of the 2022 roadmap.
"I'm deeply honored to address the commencement of the 6th governors' forum which recognizes the urgency of implementing the 2022 roadmap. This is an opportunity to reflect on South Sudan's recommitment to the revitalized peace agreement. I commend the leadership of South Sudan's government, President Kiir, and the parties for reaching a consensus on the way forward and the ratification of the roadmap last week by the transitional legislature," he added. 
According to Dr. Barnaba Marial Benjamin, Minister for Presidential Affairs, the forum was not convened for the past 9 years beginning in 2013 due to years of conflict in South Sudan.
"This forum your Excellencies is a high-profile leadership platform where the president, the vice presidents, and national ministers meet. State governors and chief administrators and other stakeholders are invited here today to discuss issues of national interest," Dr. Marial said. "The Governors' forum is the most inter-governmental forum in the Republic of South Sudan. This is a forum where we interact with our governors that reflects a system we have in this country at the national level, at the state level, and the local government level." 
Present at the forum is all the ten governors and the heads of the three administrative areas.