Governor strongly denies Mapel massacre claims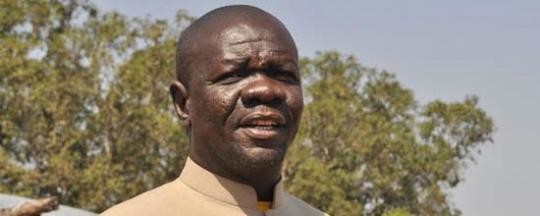 Rizig Zacharia Hassan, governor of Western Bahr El Ghazal state, has strongly denied reports and rumors of a massacre of ethnic Nuer military recruits carried out at the Mapel military base in his state.
The base is located in the east of the state and is one of the largest SPLA bases in South Sudan. It also serves as a training centre for new recruits. Violence at the base broke out Friday, but exactly what happened remains obscure, with competing claims as to what transpired.
The rumour of a massacre at the base caused four Nuer commanders and at least 61 troops in the nearby state capital to leave their barracks suddenly and take to the forest on Saturday night.
Western Bahr el Ghazal's state government quickly set up a special security committee to make contact with the runaway troops to try to persuade them that the situation was stable.
In an interview with Radio Tamazuj today, the governor said the number of Nuer soldiers who escaped from Mapel was about 88. The group that defected from Wau was about 65. He said some of the defectors were motivated by allegiance to the rebels, others by fear.
For his part, SPLA Spokesman Col. Philip Aguer put the total number of defectors from Wau and Mapel at about 300, but noted that only about 100 of them are armed. He told Radio Tamazuj today that many of those who were unarmed were merely trainees who ran for fear of their lives.
Both government officials are putting the number of dead in Mapel at no more than three or four people.
But Brigadier General Gatwech Gach Makuach, an officer who defected from Wau and spoke to Sudan Tribune by phone from the outskirts of the city, described the government's version of events as a lie, saying Nuer trainees were deliberately massacred in Mapel.
"The government lied that it was an internal mutiny within the army in Mapel. This is not true," said the general, who then claimed that a certain Brig-Gen. Baak led Dinka trainees in an attack against Nuer trainees and their families.
He said the incident started after attackers beat to death an unarmed Nuer soldier found in the market near the training centre after which the "assailants quickly moved to the camp shouting at Nuer [tribesmen] and started shooting indiscriminately."
In this respect Makuach's account corresponds somewhat to Aguer and Rizig's retellings. They acknowledged that the violence was sparked off when 'widows' of slain SPLA troops targeted a Nuer man in the market.
But the accounts diverge as to the number of casualties in the violence that followed. Brigadier General Gatwech Gach Makuach says that 192 unarmed Nuer trainee soldiers were killed in Mapel.
Two other opposition spokesmen made similar claims. Former Jonglei deputy governor Hussein Mar put the number at "over 200," saying the trainees were unarmed and killed deliberately in cold blood.
Rebel military spokesman Lul Ruai Koang issued a statement Sunday saying "over 220 unarmed Nuer Officers, NCOs and trainees" were executed at Mapel training center.
Two independent sources reported different, conflicting figures, neither of which could be confirmed. The National Courier, an online South Sudanese news source, reported Saturday that the army "quashed a mutiny" at Mapel, citing a military medical source as saying 150 defecting soldiers were killed.
"Late last evening [25 April] Medical Corp officers on condition of anonymity confirmed that the Military Hospital had received 150 bodies of mutinous troops," the Courier reported.
The second independent source, also speaking on condition of anonymity, said that "more than 40" Nuer were killed in Mapel, claiming that civilians and police were involved in the killings.
The governor of the state vehemently denied these reports. Asked directly the number of people killed in the Mapel events, the governor said "three," with three also killed in Wau, noting they were not all Nuer.
SPLA Spokesman Col. Philip Aguer similarly put the number of dead from the Mapel events at four.
According to the governor, the situation is now calm and even some of the defectors have since returned to Wau. He mentioned that seven defectors surrendered, a brigadier among them.
Brigadier General Kuang Cirang and some other officers including Major Simon Mangok, who was responsible for the night watch in Wau, returned to Wau today. An independent witness in Wau confirmed to Radio Tamazuj the surrender of seven men said to have earlier run away.
Meanwhile, more than 500 Nuer civilians living in Wau are reported to have fled to UNMISS base, seeking protection, including university students, children and women from families of Nuer soldiers serving in the area.
File photo: Governor Rizig Hassan Zacharia (Gurtong)
Related coverage:
Four SPLA generals among defectors in Wau (28 Apr.)
South Sudan: Gunfights within Bahr el Ghazal capital (27 Apr.)