Governor claims hundreds of Mapel defectors return to barracks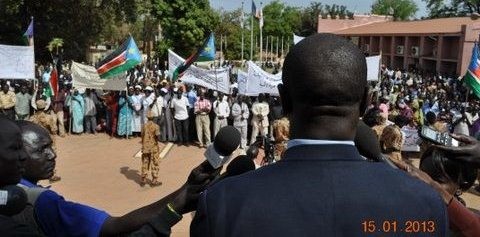 About 255 SPLA soldiers who defected at Mapel Military Training Centre have recently returned back to their barracks, said the Western Bahr el Ghazal state governor.
He said this while addressing a crowd at Wau Stadium on Wednesday celebrating the third anniversary of South Sudan's Independence Day.
Rizig Zachariah Hassan said this year's celebration has been marred by savage conflict which killed thousands of civilians and caused massive displacement of citizens.
The top state official slammed the rebel leader Riek Machar and accused him of killing innocent people in order to achieve his own political ambitions.
He pointed out that nearly 255 runaway soldiers from Mapel Military Training Centre have recently returned back after he had a dialogue with them.
"With respect to those who preferred to remain in the bushes, they are bandits who want to threaten the stability of the citizens in Bazie and Buseri area," he explained.
He stated that SPLA soldiers are now chasing the rebels along the South Sudan-Central African Republic border, claiming the insurgency is being eliminated from Western Bahr el Ghazal.
President's visit
Separately, the Western Bahr el Ghazal state official disclosed that President Salva Kiir will visit Wau town early next week to inaugurate development projects in the state.
For their part, South Sudanese nationals across the world's newest nation expressed discontent about the third anniversary of Independence Day this year, saying their happiness was incomplete owing to the ongoing conflict in the county.
Several citizens told Radio Tamazuj on Thursday that very many people are still living in the bush and in refugee camps due to the current war.
The citizens in interviews aired on Radio Tamazuj wished for peace and stability to all the people of South Sudan for the next anniversary of Independence Day on 9 June 2015.
File photo: Governor Rizig Hassan
For breaking news updates from Radio Tamazuj 'like' our page on Facebook, follow us on Twitter, or subscribe to our RSS feed.