Governor acknowledges clashes in different areas of Upper Nile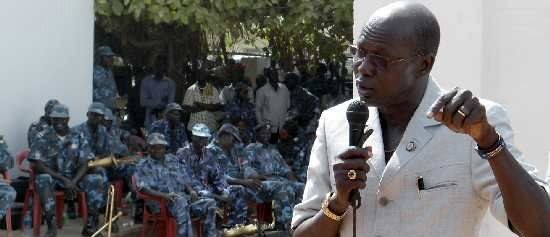 Governor Simon Kun Puoch has acknowledged that clashes broke out in three counties of Upper Nile State involving SPLA units and also armed civilians. The airport of the capital Malakal was closed after shooting at the runway on Monday morning.
Puoch was one of several key Nuer politicians who met with President Kiir on Tuesday, the second full day of the crisis. He explained the situation in the state in an interview with Radio Tamazuj on Monday.
"There are things happening in Upper Nile State, but not like in other states like Jonglei and Unity," he said, downplaying the scale of the crisis.
He explained that the incidents involved infighting in the SPLA. "There are those staying with the government, and other small numbers of them went to the bush."
Puoch confirmed there were clashes in Tunja yesterday at night in Panyikang County, and also in Kofit in Baliet County. In Nasser County armed youth entered the town, he disclosed.
Another source in the state specified that the fighting in Panyikang County occurred yesterday at the 7th Division Headquarters Wuwac and at Tunja, the county seat.
Likewise, the governor mentioned Wuwac as the site of a clash between elements of the 7th Division and armed civilians from the Tunja area. "But it finished yesterday since the morning. The people who wanted to attack those people fled to the bush," he said.
Wounded soldiers were being seen transported to the Malakal Hospital. There were no clear reports on the number of casualties.
Governor Simon Kun Puoch downplayed the humanitarian impact of the recent events saying there were few people displaced by the conflict. He said that after the clashes people just returned to their homes.
"Generally in the state the situation is fine," he contended, citing as exceptions the incidents that took place in Tunja, Baliet and Ulang (Nasser) areas.
Radio Tamazuj received report of other troop movements in the state but these could not be confirmed.
File photo
To contact Radio Tamazuj with comments, news tips or information, write to radiotamazuj@gmail.com.