Government warns NGOs against ceasefire violation reports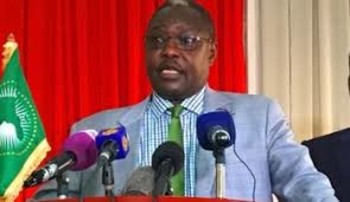 File photo: Martin Elia Lomuro
South Sudan's government has warned Non-Government Organizations operating in the country against compiling reports on ceasefire violations.
The South Sudanese parties have been accusing each other of breaking the ceasefire deal signed in December last year.
The truce asked warring parties to cease hostilities and keep forces in their bases while calling for release of war prisoner and political detainees.
"Nobody has a responsibility to report on violations except CTSAMM. We found that some of the NGOs that are working cross the country have taken as part of their job to report on military issues, including violations and ambushes," South Sudan's cabinet affairs minister, Martin Elia Lomuro, said during a press conference in Juba on Friday.
"We want to warn you [NGOs] severely that nobody has the rights and the mandate or the authority to report on the violations except CTSAMM, and the agreement is clear on this," he added.
The government official urged the Intergovernmental Authority on Development (IGAD) to empower the international ceasefire monitoring body, known as CTSAMM, pointing to its inability to carry out its mandate effectively.
Lomuro said they had reported 31 attacks on the government positions by rebels but the mechanism did not verify." This business of saying both sides are guilty is tantamount to violation of the agreement itself," he said.
According Lomuro, members of the CTSAMM mechanism are not allowed to issue any new report until they investigate the reported violations first with the army generals on the ground.