Government warns Malong, and ready for negotiations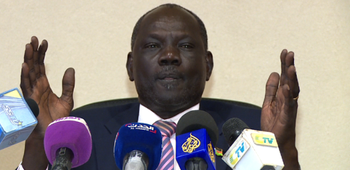 South Sudan government has warned former army chief Paul Malong who announced a new armed movement to choose peace over war, saying Malong's main motivation to rebel is losing his position in the army.
Yesterday, Paul Malong Awan, formed the South Sudan United Front aimed at 'arresting the carnage that has befallen the county' and to 'steer the country towards democracy and development'.
Speaking to Radio Tamazuj on Tuesday, information minister and government spokesperson Michael Makuei advised Malong to engage the government at the negotiation table.
"We advise Gen. Malong not to choose the other path, let him choose the negotiations so that we can negotiate. But if he chooses violence, or use force against the government, it is not the right way. He should choose peace negotiations over war because it will not be good for him if he chooses war," he advised.
Responding to accusations by Malong that President Salva Kiir's government is known for systematic corruption that has devastated the lives of citizens and the endless wars, Makuei said Malong had no moral ground to make such assertions.
"What we know is that what he says he wants to do in his party has no ground because he talks of corruption and he is among the most corrupt in the country, he talks of atrocities yet he was in the forefront of the atrocities committed in the country. That is why he was discharged. So if he was not sacked he would not have rebelled. He rebelled just because he lost his position," Makuei said.
Makuei went further to say that the government is ready to negotiate with all the opposition parties in Addis including Malong.
"If he wants to go to Addis, we are not the ones who decide who goes to Addis for the negotiations with us. So if he contacts IGAD and they allow him to attend, well and good," he added.
The prominent government official said the government has pulled its resources to the peace talks and is not ready to subject South Sudanese to another war.
"On our side we do not want to lose more people because someone wants a position. It is enough what Riek has done to us, we don't want Malong to come again and take more lives of South Sudanese," Makuei said.
Malong has served as Northern Bahr el Ghazal state governor since independence and was later appointed SPLA army chief of staff in 2014 till his dismissal in 2017.