ADDIS ABABA -
21 Jun 2018
Government wants Machar to stay in exile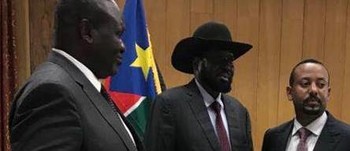 South Sudan's government said it wants the country's opposition leader, Riek Machar, who is now in Ethiopia to be maintained in confinement in South Africa.
"When President Salva Kiir agreed that Riek Machar should come here, the agreement between him and Ethiopia's Prime Minister is that as soon as they finish the meeting, Riek Machar goes back to South Africa," Michael Makuei Lueth, South Sudan's Information Minister, said according to a video of his remarks obtained by Radio Tamazuj.
"But as of now his status seems to be under discussion now by the summit, so we will know what the final position of the summit is. But our position has been that if not so … if he is not going to South Africa , then he should be in one of the states that is not a member of IGAD and not neighboring South Sudan," he said.
Makuei said President Salva Kiir was not ready to work with the main opposition leader Riek Machar in the upcoming transitional period, citing the July 2016 events in Juba.
"President Kiir is saying yes for peace but not to work with Riek Machar again," he said.
President Salva Kiir and opposition leader Riek Machar held face-to-face talks in Addis Ababa on Wednesday and discussed the peace process in broad terms.
The IGAD Council of Ministers, in a communiqué issued following its extra-ordinary summit in Addis Ababa in early June, recommended that Kiir and Machar meet face-to-face. It also agreed on the effective participation of the armed opposition leader on the peace process.