Government troops withdraw from Malong's home in Juba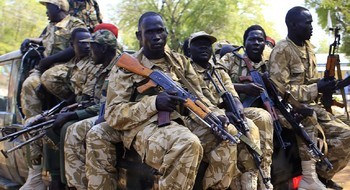 High tensions reduced in South Sudan's capital on Saturday afternoon after government troops surrounding the home of former army chief of staff Paul Malong withdrew.
Juba was tense since last week as heavily-armed soldiers surrounded the residence of General Malong in a bid to disarm his bodyguards on orders from President Kiir. Malong, who has been under house arrest in Juba, was fired in May.
A relative of Malong who preferred anonymity told Radio Tamazuj this evening that the government troops and tanks deployed around the house of General Malong have been withdrawn this afternoon, pointing out that tension reduced in Juba.
"The government forces and armoured tanks have been withdrawn this afternoon, so now the road is open. No forces now around Malong's home and even the tanks are not there," he said.
The relative pointed out that a press conference will be held by community elders on Monday before General Malong could meet President Kiir.
He revealed that the former military chief is planning to leave Juba anytime soon. "We have already started the process to renew his passport so that he leaves the country, but we have not yet decided on the country," he said.
It was not immediately clear what led Kiir to withdraw his troops from Malong's home without any official document signed with General Paul Malong.